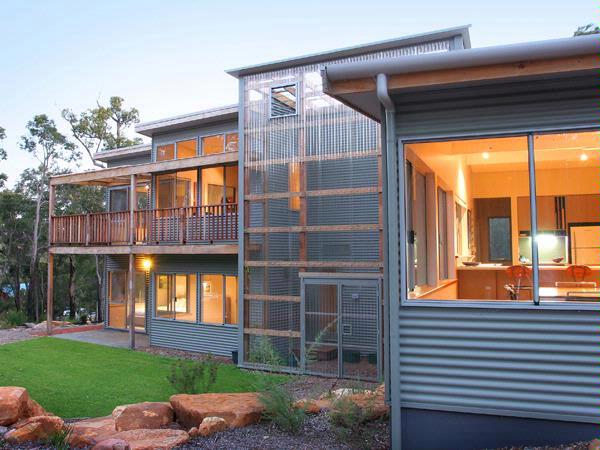 Details
Description
Northlight Building Design and Valmadre teamed up to deliver a serene, unobtrusive, award-winning bushland retreat.
The straightforward brief for this home called for sustainability, no air-conditioning, and ample heating in winter.
The residence keeps its carbon footprint low by using a highly insulated, locally sourced timber frame, recycled material from the site and no external painting. The landscape design uses local species, while a storm-water reed-bed treatment system feeds an on-site dam, which is rehabilitated into a natural wetland environment.
The residence encompasses a north-facing greenhouse, which absorbs heat during the day. In winter, this heat is transferred using low wattage (less than 100W) fans into thermal masses placed around the building.
One thermal mass lies under the living wing, where granite rubble from the site excavation absorbs the heat and releases it slowly through the floor slab.
Two other thermal masses are 'water walls' - locally recycled agricultural chemical drums stacked and filled with water.
In summer, these masses use the greenhouse as a night purge system to remove the day's heat from the house. More details on how these work are available on the Northlight website.
The home was delivered on time and under budget, and demonstrates what is achievable with the collaboration of a client, designer and builder who are all committed to a sustainable philosophy of low tech, low cost, active solutions.
Northlight Building Design
83b Victoria Street, Bunbury
Phone (08) 9791 8777
Email [email protected]
Web www.northlight.com.au
Valmadre
Unit 1/16 Griffin Drive, Dunsborough
Phone (08) 9756 7308
Email [email protected]
Web www.valmadre.net.au
Location