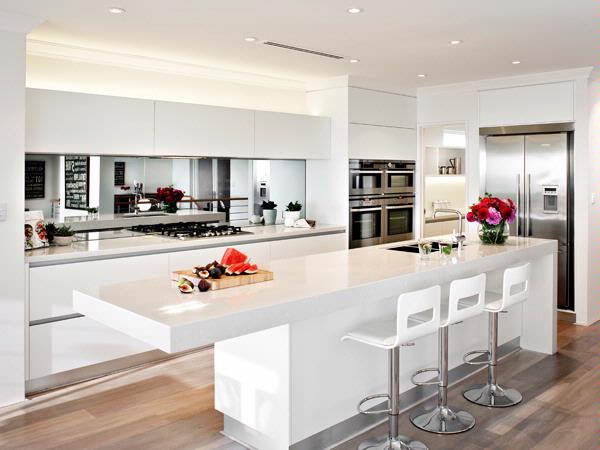 The Maker Designer Kitchens Jindalee
Details
Description
Fiona Bartucciotto from The Maker Designer Kitchens designed this stunning kitchen for Webb & Brown-Neaves' "Watersun" display home in Jindalee.
The brief was to create a fresh, contemporary-style kitchen, without compromising on function. The space needed to complement the laidback Australian lifestyle, while showcasing The Maker's trademark innovation and creativity.
At the core of this creativity is an eagerness to explore the use of new materials and finishes – this project was no exception. As a result, the kitchen features textured Polytec fine grain laminate in Classic White, which contrasts well with the solid coolness of the CaesarStone benchtop in the new Whisper tone.
The Maker Solid Surfaces constructed all benchtops and suspended the main one to create a stunning island counter.
While every modern convenience is visible – from dual wall ovens, combination oven, and steam oven, to the 900mm-wide cooktop, semi-integrated dishwasher and semi-integrated fridge – the kitchen has a seamless, streamlined appearance.
The use of space and concealed up-lighting above the overhead cabinets means this isn't just a kitchen in an open plan living space, it's an architectural work in itself. While the style is modern, the finishes are classic ensuring the kitchen will grow with the potential owners.
Related
The Maker Designer Kitchens- South Perth
The Maker Designer Kitchens Darlington
The Maker Designer Kitchens 2009
Location