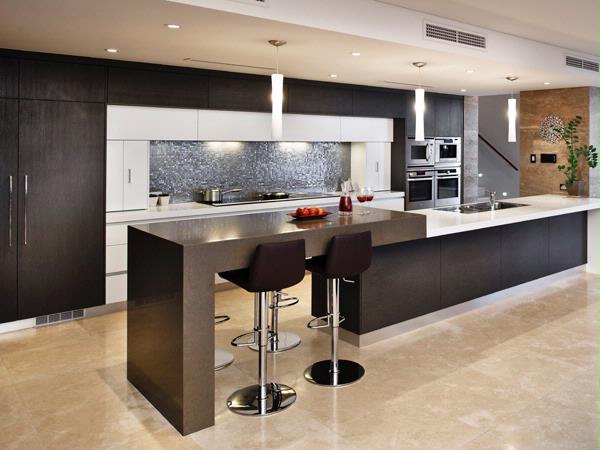 The Maker Designer Kitchens Darlington
Details
Description
This kitchen's contemporary design and sleek finish tie in seamlessly with the style of the home.
The homeowners wanted a modern, family friendly kitchen space that functioned as an extension of the entertaining area.
High quality fixtures were a priority, as were sleek, striking finishings and modern appliances.

The kitchen has been designed as a central hub of the family and entertaining space in this home.
It showcases state-of-the-art fittings and fixtures, including eight large storage drawers that have Hafele's Grass Nova Pro European soft-close system and Salice hinges to all the doors. Finger pulls, instead of bulky handles, complete the streamlined look of the room.
One of the initial concepts for this kitchen was to create an area for a fridge/freezer, pantries and wall oven stack that would appear to be a freestanding piece of furniture.
The designers exceeded expectations, turning this part of the kitchen into a striking visual feature that is practical and multi-functional.
An asymmetrical finish was the outcome of offsetting the rangehood, while the large overhead hopper cupboards appear to float mid-wall.
The designers were able to take advantage of high ceilings and extend the top of the cabinets to 2400mm, creating a lovely frame for the furniture piece.
As an additional visual feature the pantries were split, allowing the grain of the laminate to run horizontally, which in turn added to the long, streamlined finish of the cabinets.
Each pantry sits beside the wall oven and microwave stack, creating symmetry.
Cleverly, the island bench has been designed to appear as a solid block with an 80mm fascia essa stone top, under mounted sink and 160mm boxed-out laminated ends.
Stainless steel appliances have been chosen throughout with the dishwasher semi-integrated so as to not interrupt the flow of cabinetry.
Related
The Maker Designer Kitchens- South Perth
The Maker Designer Kitchens Jindalee
The Maker Designer Kitchens 2009
Location