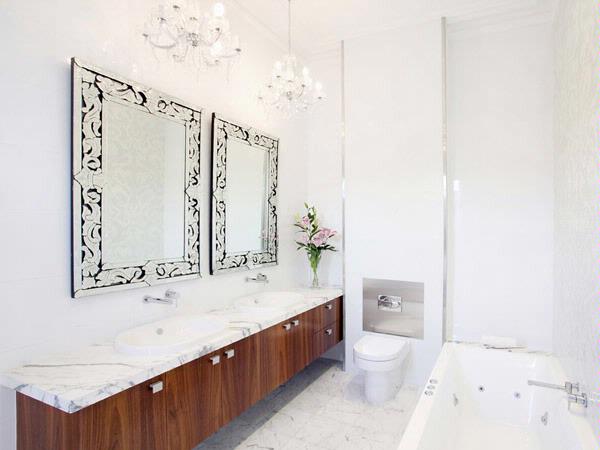 ID Interior Designers Mount Lawley
This classical bathroom byID Interior Designers was created with royalty in mind.
Details
Description
The bathroom of this Mount Lawley residence needed to complement the distinct grandness of the home. The design had to be modern classic and suit today's lifestyle. The owners wanted the bathroom to have a striking visual effect but also be functional.
Reminiscent of a European villa, this bathroom is sophisticated and glamorous. Crisp, clean colours and small, intricate details ensured the clients' wishes were met.
Crystal chandeliers add to the luxury appeal and add a personal touch to the bathroom. Chandeliers are an extravagance normally associated with resort bathrooms and ID Interior Designers incorporated them in the design to evoke the same concept.
The patterned glass mosaic wall is a standout feature in the bathroom, though the use of white and silver tiles ensures it doesn't control the room. The feature wall complements the marble basin,bath and tiles and blends in with the other standout design features.
The two mirrors over the vanity area have defined black and silver detailing. Backed on to a white wall, the mirrors break the large amount of white throughout the bathroom. Each basin has a mirror and individual lighting, ensuring the ultimatein functionality.
High quality fittings create a sleek and stylish effect and details in the chandelier and mirror, and the mosaic feature, break up the clean, white area. The bathroom exceeded the expectations of the clients, falling within the overall budget that included a large amount of renovation and construction work.
Related
ID Interior Designers 2007
Location
Address: 4/11 Whipple Street,Balcatta,WA,6021
Phone: (08) 9240 6776
Email: [email protected]