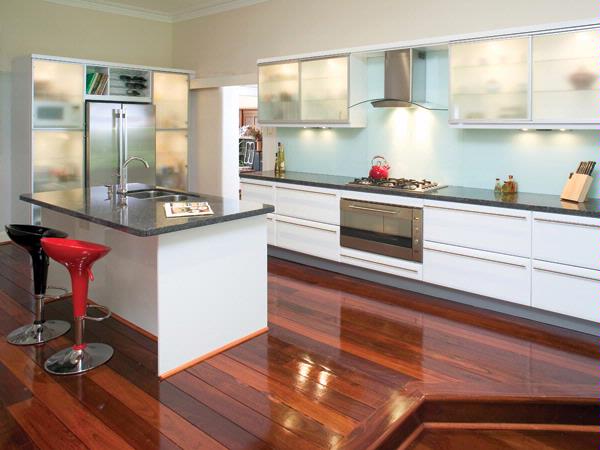 La Rochet Interiors Nedlands
Details
Description
The kitchen became a standout feature in this Nedlands home when La Rochet Interiors was given free rein with its new design.

The existing kitchen formed a 'U' shape, restricting access to the main living areas of the ground floor. The homeowners wanted to open up the space where possible, to make for easier access and give full use to all areas. The house is around 100 years old and although a contemporary look was requested, some traditional features had to be incorporated. The owners requested a 'different' look but needed practicality with low maintenance surfaces.

Mike Bayley of La Rochet Interiors was invited to submit a layout, bearing in mind all ideas, and produced a computer generated 3D colour layout. This enabled the client to visualise the area with installation completed.

The design extended the step at a 45 degree angle to enable full use of the back wall, timber cladded floor consisting of recycled jarrah to match the rest of the home, and all cooking operations moved to the one area.
All illuminated units have glass shelves, encouraging light to spread from top to bottom, while granite tops lend a more traditional feel to the design.
Related
Location