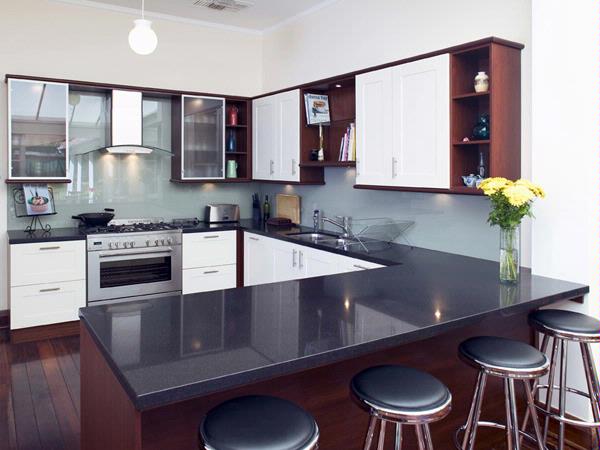 Details
Description
La Rochet concocted a blend of contemporary design features with elements of early last century to perfect this client's kitchen.
The owners were renovating their 100-year-old home and requested a look that would be in keeping with the original features maintained throughout the rest of the home.
However, they also wanted a more contemporary feel and practicality despite the traditional elements. The existing kitchen was very small and badly situated, so the new design was incorporated into what had served as a family area. The new area is a pivotal point at the centre of the house so the blend had to be right.
The complete project was designed and managed personally by Mike Bayley of La Rochet Interiors. Mike organised all the material suppliers, trades and appliances and coordinated the complete installation from design to finish.
There were no services in the proposed area so water, waste piping, electricity and gas had to be re-routed. A doorway to a corridor had to be removed and transformed into part of a wall in the new kitchen.
Mike initially presented the clients with a 3D colour design for ease of interpretation.
Appliances and the under-mount sink have been fully integrated for stream liningand to keep them out of sight where possible, with cabinet doors designed and fitted to provide more of a furniture feel.
Glass storage units were used to complement the glass and stainless steel rangehood. These are illuminated from below and inside to give warmth to the area, especially at night.
Mike chose to use a Shaker style of cabinet frontage, with 100mm-wide stiles and rails.The Shakers were renowned for their dedication to perfection in a unique range of architecture, furniture and handicraft styles. They relied on skill and natural resources, designing furniture with care and without elaborate details.
The carcasses, cornice, pelmet and plinth mouldings, as well as the open units, are finished with a jarrah veneer polished to complement the jarrah floor. Mike's clients say they're extremely pleased with the result. With the finished product blending seamlessly with its surroundings, it looks as if it has always been there.
Related
La Rochet Interiors Nedlands
Location