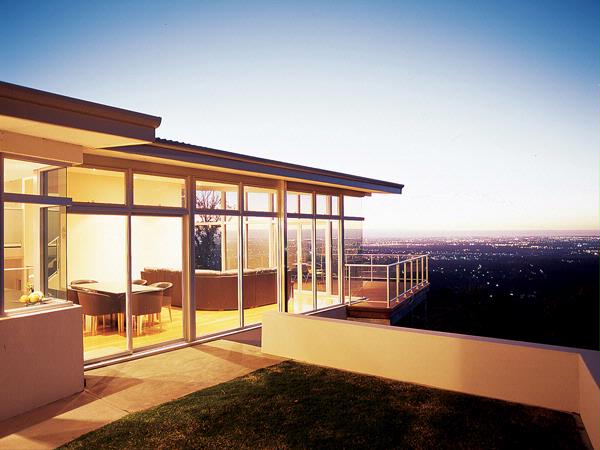 Matthews Architecture 2007
Details
Description
Matthews architecture took opportunity to harness the hues of the coastal palate to create this relaxed-style home that makes use of expressive forms.The house was designed for a Perth couple as a holiday retreat for themselves and their children's families, as well as large groups of friends.
The brief was to create a home that accommodated mixed groups of visitors in a comfortable, relaxed environment, taking in the coastal setting while affording the opportunity of privacy for the family members and friends.

The block fronts onto the sand dunes and the beach, so views were a priority for all the living areas and main bedrooms.
A "cruciform" plan enabled this to be achieved with the living areas taking both westerly and predominantly northern views of the beach, as well as four bedrooms having views and individual access to the beach.
The intersection of the east-west curved living areas with the north-south rectilinear bedroom wing also provided additional privacy for the owner's bedroom and bathroom, being separated from the other bedrooms.
The kitchen, dining and main living room are all open plan and generously sized. A large deck and barbecue area caters for entertaining large groups.
Low maintenance materials were employed to minimise the upkeep required on the house, including masonry and galvanised steel construction, aluminium windows and sliding doors as well as coastal grade metal roof sheeting.
The refreshing sea breeze is used to cool the house in summer, with operable windows orientated to the south-west that can be opened or closed to the breeze as desired. Consequently no air-conditioner was installed.
The living area reaches out to the west and protects the northern outdoor entertaining deck area from strong winds while still offering full access to the spectacular view.
The texture of the coastal environment was incorporated into the design through the use of a curved rammed limestone wall, both internally and externally, that leads from the entry area through to the living areas. The curved wall, drawn from the
coastal dunes and the bay, shapes the roof, which sweeps over the carport and cradles the deck area. The curved roof also shades the living areas, allowing in the winter sun and excluding the summer sun.
Location
Address: PO Box 131,Applecross,WA,6153
Phone: (08) 9316 0531
Email: [email protected]