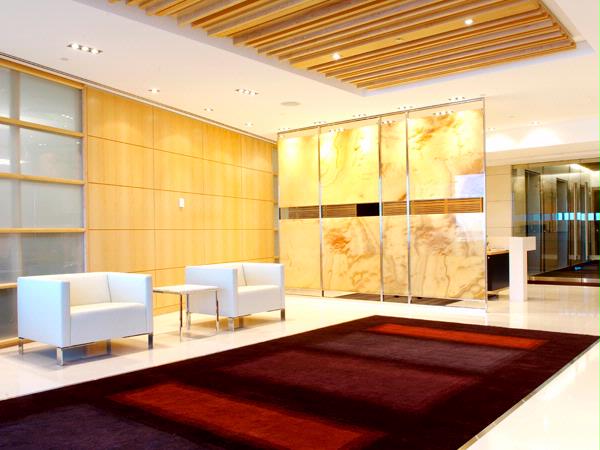 Blake Dawson Waldron Project
A family owned and run business since 1971, Atelier has built up an enviable reputation for quality production and effective project management. Managing Director Peter Judge carries on the family business with his team of 21 at the factory and offices in Willetton.
Details
Description
When Blake Dawson Waldron wanted to create a national uniformity for its offices, Atelier Furniture Interiors was brought in to add the finishing touches.
Blake Dawson Waldron wanted to fitout its corporate headquarters in Perth to reflect the firm's other offices using similar design principles and materials. Numerous materials were to be used in each aspect of the fitout, with each item dependent on the adjoining items being made correctly to allow for correct fitting. Atelier used materials including veneer, solid timber, melamine, laminate, marble, stainless steel, paint, glass, fabric and Duraloid.
The Blake Dawson Waldron project was a complex design where accuracy and organisation were the key to making the project work. It was a precise interaction between suppliers and contractors to achieve a brilliant result.
Firstly, two people were flown to Sydney to view the existing Blake Dawson Waldron fitout, so the reflection in Perth could match the details of the Eastern states office as closely as possible.
Atelier worked with the designer to fine tune all the details of the job, and spent two days on site making, measuring and matching up the materials to ensure the fitout went as smoothly as possible.
Atelier had to be very precise as all parts were made off site and needed to fit together within a couple of millimetres when installed on site. Complete walls and passage ways were made of solid rock maple and glass. This included door frames. A large amount of solid timber was used, so there was no margin for error in these areas.
Atelier had to liaise with the builders to coordinate all the materials and parts to meet the construction and fitout program, which required national logistics. "Laminated stone had to come from Sydney and couldn't be altered once ordered, "says Peter Judge from Atelier. "This was also the case with the solid timber. The sheer sizes required meant we had to source this from right around Australia and bring in most of what was available. Even then, we still had to wait for shipments from the USA to finish the job!"
Atelier completed the reception counter; tea preparation area; utility benches; vanities; meeting rooms; waiting areas; offices and panelling. Their palette of materials included solid rock maple; veneer rock maple; stone for the special laminated marble behind reception; stainless steel; Corian manufactured stone; leather; Canite(pinboards); fabric paint on the wall panels; acoustic backing fabric; frosted and colour backed glass and Melamine.
Location