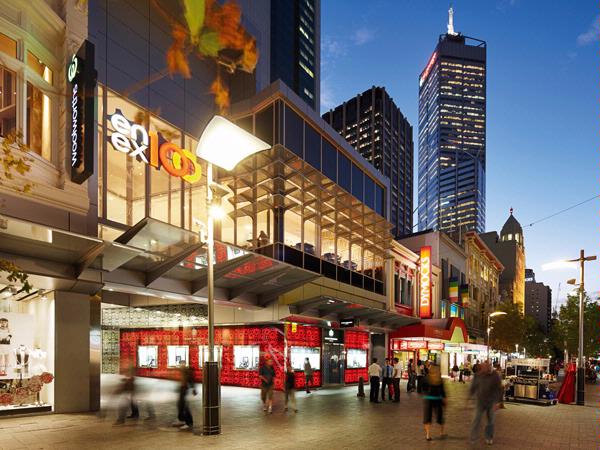 Hames Sharley draws inspiration from past and present designs for a fresh city style that Perth locals can be proud of.
Details
Description
Enex 100 is a unique mixed-use development unlike any other commercial centre in the Perth CBD. Comprising three levels of retail, which is linked to the 24-storey commercial building 100 St Georges Terrace, it provides an important pedestrian link between the retail and commercial precincts of Hay Street Mall and St Georges Terrace respectively.
Attracting high-profile retailers, Enex 100 brings a new level of style to the city by incorporating fashion, entertainment and food.
On the Hay Street Level, generous internal shopping malls with retail and food outlets featuring four-metre high shop fronts are utilised to create a stylish and contemporary space. The preservation of the heritage facade of the 1908 Sandover building integrates seamlessly within its contemporary setting. Inspiration was drawn from the past and the present to bring character and charm to this vibrant hub.
Anchored by the retail component is 100 St Georges Terrace, one of Perth's most prestigious commercial buildings to date. Set back from the busy Terrace to expose the heritage-listed Trinity Church, the new podium is positioned to create a distinctive public realm space. The commercial tower houses national and international tenants, and offers spacious floor plates and a virtual column-free space. This provides flexibility for its tenants whilst maintaining unparalleled panoramic views across the city, and generous natural light to each floor level.
Incorporating the latest technology and sustainable features, the leading-edge office tower has been awarded a four-star Office by Design V.2 Green Star rating and is currently aiming to achieve a 4.5 ABGR rating for the base building.
Location