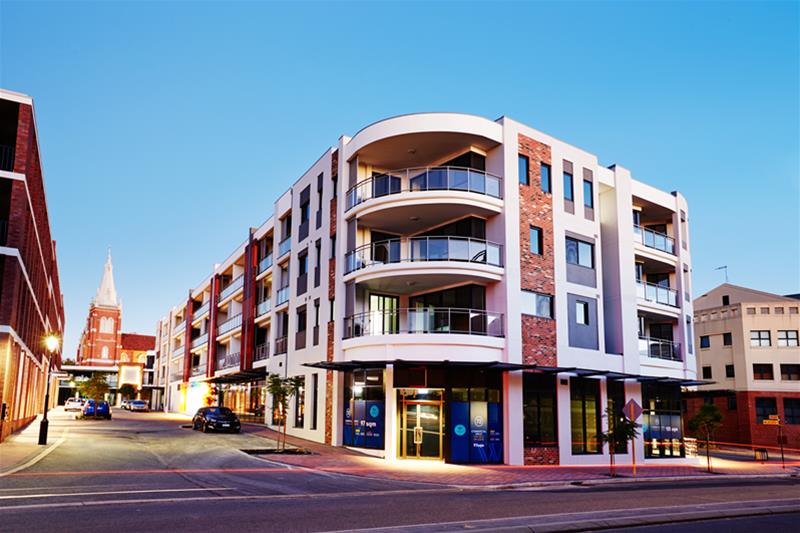 Subi Centro North, Wexford Apartments introduces modern, luxurious apartments in the heart of Subiaco, as well as contemporary retail, office and restaurant tenancies.
Details
Institutional Designs:Civic,Residential,Urban Design
Description
Constructed by PACT Constructions and designed by Eames Architects, Subi Centro North is a large mixed-use development, spread across two separate sites.
The first site (Lot 4), completed in February 2013, is a five-level construction that features two basement levels. It boasts 900sqm of office space, 150sqm of retail space and 18 luxury apartments.
The second site (Lot 2) also has two basement levels of car parking, along with 750sqm of office space and 120sqm of retail space on the ground floor. But the big feature of this site is the 63 luxury apartments located over the first, second and third floors.
The site features modern architectural façade treatments, along with modern and appealing interior finishes, making them highly sought after in the Subiaco real estate market.
Project Value: $33 Million
Construction Time: 104 Weeks

Related
Joseph Banks Secondary College
Edith Cowan University Building 34
Bassendean Shopping Centre
Baldivis Library & Community Centre
Location
Address: Unit 4, 12 Cowcher Place,Belmont,WA,6104
Phone: 08 9340 5900
Email: [email protected]