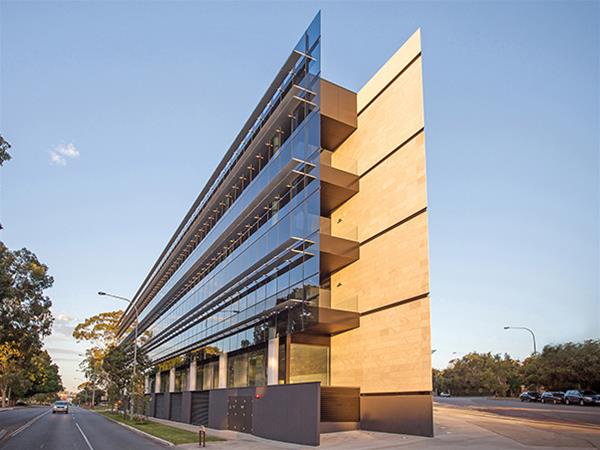 Westgate is a four storey, mixed use commercial building which responds to the dual road frontages with respect to the land use and built form opportunities of the site.
Details
Institutional Designs:Mixed-Use,Office
Description
Hames Sharley is a multi-discipline practice that specialises in architecture, interior design, urban design, planning and landscape architecture. In addition to these core disciplines, it offers expertise in strategic asset management, community engagement, health planning and research.
Since its establishment in Adelaide in 1975, Hames Sharley has grown to become one of the country's leading design practices, the only one to have been awarded WA Practice of the Year on three occasions.
Westgate The underlying principle behind the design of Westgate was to reactivate the prominent corner of Railway and Bagot Roads in Subiaco and provide a new community asset and landmark. This striking six-level commercial office sets a new high quality architectural benchmark for the immediate precinct. As the revitalisation of this area continues, Westgate provides the quality of built form future developments will aspire too.
Westgate's remarkable glass curtain wall facing Railway Road is a first in Western Australia, eliminating structural mullions from its perimeter to create an eye-catching facade on this prominent corner.
Steel was used as the primary structure, to not only reduce construction time to 14 months, but also enabled huge clear spans between columns to deliver high-quality open commercial office space. Fabrication and coordination of steel off site allowed the structural steel to be assembled on site very quickly and dramatically reduced build time. A side core provided better access to views for tenants and by using appropriately shaded high-performance double-glazing throughout, and proactive selection of air conditioning systems, Westgate achieved a designed NABERS rating of 5.5 stars.
The completed crisp, clean exterior is softened by the large, established trees surrounding the site, providing a rare feeling of openness and connection to nature while providing the occupants with substantial views of the surrounding suburb.
Related
Location