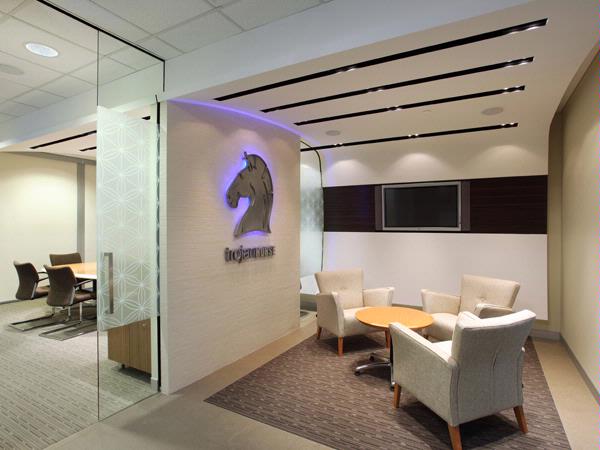 Trojan Horse Interiors prides itself on the close working relationships it has with many ongoing clients.
Details
Description
Due to increased staffing, workloads and industry profile, Trojan Horse Interiors determined it was time to create a working environment that reflected their position in the market.
The vision for the new environment was one of relaxed professionalism, providing all the facilities required to make day-to-day operations more efficient and enjoyable for all concerned.
With its previous lease due to expire, various potential tenancies were evaluated with the final decision being made to take up space in a new premier three-level office building in the recently rejuvenated Subi Centro.
Due to the advantage of an owner/occupier situation, numerous changes were made to the base building structure, which created special aesthetic and functional features.
The office space is predominantly open plan, encouraging free flowing conversation and ideas while allowing the natural light in.
The reception area features a combination of elegant floor tiles and inset feature carpet with tub chairs & coffee table creating an informal meeting area.
A curved bulkhead extends from the floor over the waiting area to create a feeling of shelter and accommodates a flush Plasma screen presenting images of past projects.
The meeting area is adjacent to the reception and has access to an external balcony (providing the ability to entertain if required), which is often kept open to allow maximum natural ventilation.
The meeting area is delineated by large frameless glass sliding doors that are kept open when not in use to increase the feeling of light and space.
The kitchen and services area occupy opposite sides of a large Corian island, which doubles as wine storage on the kitchen side and stationery storage on the other, and also creates another informal meeting space.
An extensive Dynalite system has been incorporated into the office, offering excellent control over lighting, air-conditioning and audio, as well as reducing the energy consumption. Workstations are laid out in a linear design enabling staff numbers to be increased by simply relocating the mobile storage units and divider screens.
The large amount of natural light entering the tenancy has been taken advantage of with all working areas positioned near to this glass, enabling less reliance on artificial lighting.
Related
Norman Disney & Young Project
Location