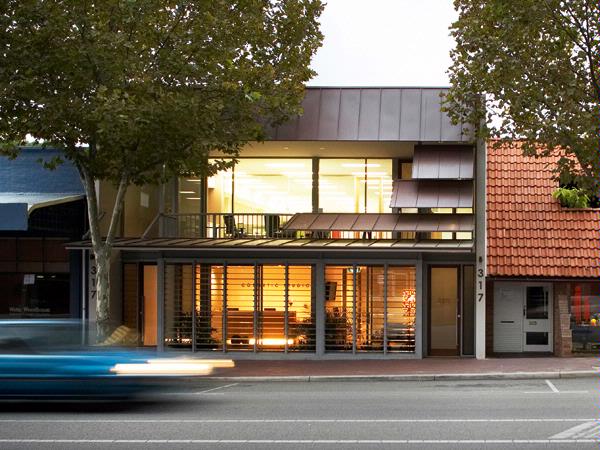 WrightFeldhusen Architects was formed in 1996 by two principal architects, Tim Wright and Rachel Feldhusen.
Details
Description
A 1970s office building is transformed into one of Subiaco's most stylish and recognised street fronts.
The client requested a complete renovation of an existing 1970s office building, located on the busy and dynamic Rokey Road in Subiaco. WrightFeldhusen Architects needed to create a striking a new façade as well as a complete fit-out of the ground floor for a cosmetic clinic.
The existing upper level office tenant was to remain in the building so the design had to find a successful solution for both occupants.

Flowing layers of weathered copper awnings cascade down the facade of the building, drawing the eye to the main entrance canopy. The copper will age beautifully, requiring little maintenance and giving the building a dynamic, ever-changing look. This elegant façade complements the contemporary nature of the site.
The entrance and ground level area is enlivened by a bank of glass louvres that filter light and air to the internal garden and office beyond. This creates a sound barrier and tranquil transition from the public to private domain, and also offers interaction between these spaces.
Translucent windows give a soft, stylish look from the street and allow subtle natural light into the interior, while still offering privacy to the tenants.
The reception area is bright and elegant with clean lines. The use of warm-toned wooden flooring and the entrance garden give the space a welcoming feel.
Location