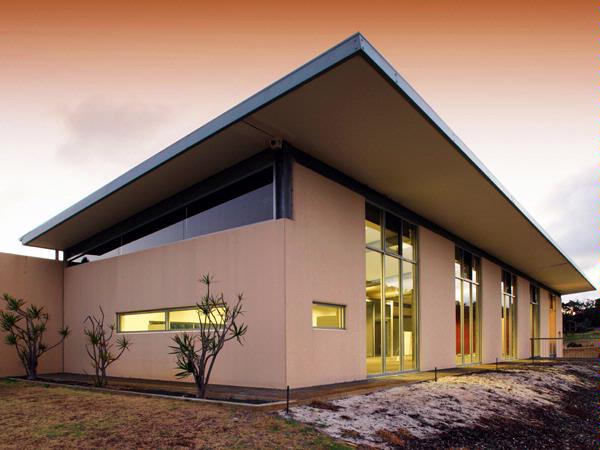 Innovest Construction Project
Established in 1994, Craig Steere is a small practice, offering a personalised architectural and interior design serve for both domestic and commercial projects.
Details
Description
The clients, Innovest Construction (a building company), required a contemporary office building that would suit tilt-up concrete construction (Innovest specialised in this with their winery construction), an aesthetic they liked – particularly contemporary Japanese examples such as Tadao Ando. It would also complement the nearby Art Gallery precinct.
Environmentally sustainable principles were to be incorporated in both the design and selection of materials, and it was important for the building to integrate well with the serene landscape of Gunyulgup Lake.
Specific functional requirements included open-style studio offices and meeting rooms, a reception area, a function room and a storeroom, arranged over two storeys.
Overall, the building was required to sit quietly within its rural landscape setting; it needed to be designed in a way that would showcase the favoured tilt-up construction technique; it needed to incorporate a flexible and open floor plan; maximise natural ventilation and daylighting, with exposure to northern and winter sun and reduced exposure to western sun; and it needed to incorporate low-maintenance materials.

The building is a contemporary exploration of two different aesthetics: the functional and planar qualities of tilt-up concrete construction, and the softer, local tradition of classic cream-coloured masonry walls, simple skillion roofs and sculptural layering of blade walls and building forms.
It was designed with a simple rectilinear plan, oriented on an east-west axis to maximise exposure to the favoured northern light, and with operable windows positioned to capture the cooling South West breezes. Large areas of glazing allow for natural lighting of the internal studio spaces while also making the most of the commanding views to Gunyulgup Lake.
The building was positioned in a way that allowed it to be built within the natural contours of the site, minimising its apparent scale and mass and contributing to the sense that it nestles comfortably within the undulating rural landscape.
The design attempts to depart from the standard expression of tilt-up construction with its placement of openings and inclusion of exposed galvanised steel framing.
Internally, a one-off handmade concrete reception counter was created as a durable but distinctive part of the entry space, characterised by the patterns and textures of the formwork technique.
The concrete finish is a consistent theme throughout, with honed concrete floors and unpainted concrete walls exploring the possibilities of this typically industrial aesthetic.
Similarly, overhead galvanised beams are a feature of the ceiling, while stairs created with profiled metal "checker-plate" sheeting are a distinct and playful element in an otherwise simple interior.
The Gunyulgup Lake Studio is currently being developed by Starbay Cowaramup into five-star boutique accommodation.
Location
Address: 219 Onslow Road,Shenton Park,WA,6008
Phone: (08) 9380 4662
Email: [email protected]