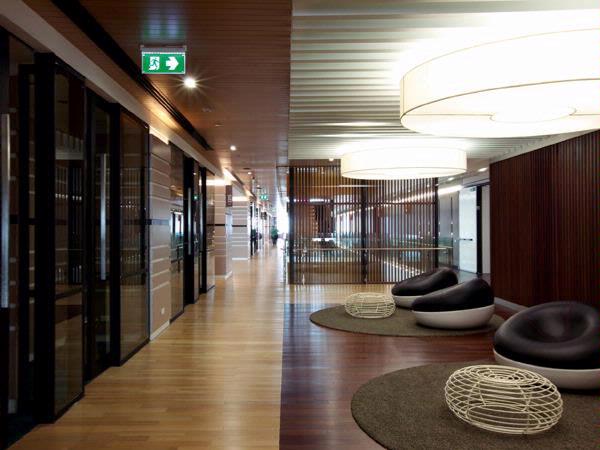 A multi-award winning firm, HASSELL understands individuality and strives to ensure the best workplace outcome for each client.
Details
Description
dtac is one of Thailand's leading telecommunications providers and enlisted HASSELL to design the fitout for its Bangkok headquarters.
The aim of the new workplace was to communicate both to staff and visitors, the concept of play and learn. This term simply summaries the dtac approach to their business of communication and is seen vividly through the attitude expressed in dtac's advertising and merchandising. On one day there may be a local market in the reception area and on another, a games arcade. These practices are designed to promote a high level of physical and entertaining brand interaction.
The company is exposed to the public through its shopfronts so they requested a non-traditional arrivals area, which would allow for a personal greeting experience, much like in a retail store.
This led to the development of touchdown pods where clients and staff are at a face-to-face level and within a larger, expansively open environment.
In addition to a focused breakout area on each working floor, one floor was also dedicated purely to staff recreational facilities and includes a gym, indoor soccer area, band stage, karaoke, as well as two large outdoor terraces.
This large focus on the dtac recreational community – intentionally separated from the work community – lives up to the value placed on a holistic approach to staff wellbeing.
With three levels of front of house meeting areas, dtac was also interested in pursuing a variety of meeting spaces to change the nature of how meetings take place.
This investigation of spaces where people might gather led to the forms of the "Conversation Pit", the "Freeform Meeting", the "Picnic Table" and the "Dining Room".
The design articulation of the dtac communication concept is realised physically through directional linear forms, both horizontal and vertical, and sometimes curved and freeform.
In addition, detail was also addressed on the typical working floors through the articulation of the built zones, closest to the core.
The common circulation corridor, which stretches for more than 160m around the large building core, is deliberately broken up by giving definition to the individual rooms of the built zone through depth, set out, lighting and finishes.
The health and wellbeing of staff was a constant concern so HASSELL created open workspaces incorporating plants and the inclusion of a first aid and fitness area.
The fitout also placed high value on sourcing the majority of materials and loose furniture locally.
Related
Broad Group Holdings Project
Location