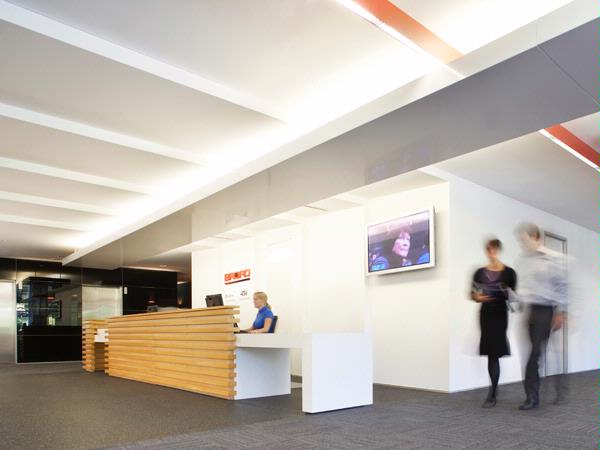 Broad Group Holdings Project
A multi-award winning firm, HASSELL understands individuality and strives to ensure the best workplace outcome for each client.
Details
Description
The client is a member of the construction industry, therefore its office space needed to reflect the professionalism and quality of its projects.
HASSELL's client, Broad Group Holdings, was relocating from Northbridge to a newly built building at Parliament Place in West Perth.
The fit-out included the integration of a 300sqm shared IT facility within 1800sqm of large, uninterrupted open plan areas allowing for project teams to expand when required, to create a sense of connection between teams and a highly flexible workplace environment.
Through the design process, the HASSELL team endeavoured to create a pragmatic, simple workplace that reflected Broad's values of professionalism, strength and leadership. Broad's corporate identity was reinforced through a strong, yet limited colour palette, and a selection of statement finishes. Black, white and red were used to create a dynamic and bright workplace environment.
Sustainability principles guided Broad to reuse some of their existing office furniture which in turn influenced the overall finishes scheme.
The breakout areas feature brightly coloured carpet designed to stimulate conversation and enhance the informal feel of the space.
The project involved close collaboration between HASSELL and the client – who also acted as builder and project manager. Given the client's knowledge of the design and construction process, this partnership was successful in many aspects including the completion of design and documentation in a very short time frame, on time and on budget.
This modern office is modelled on a corporate vision of accessibility, interaction and quality of life – and conducive to the unplanned, social exchanges vital to creative teamwork.
Related
Location