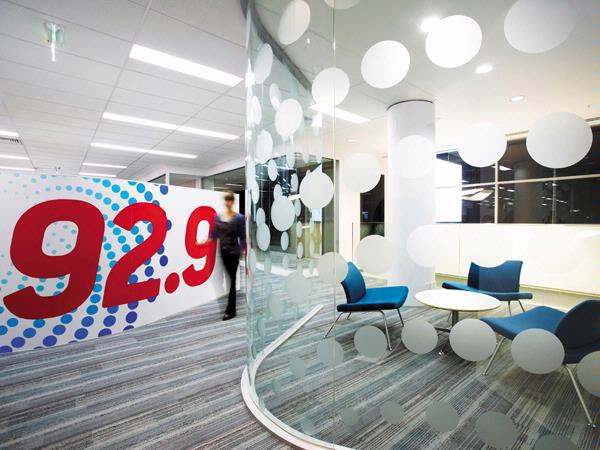 Directors Kath Kusinski and Melanie Marshall head up the awardwinning practice priding themselves on their reputation for producingfuture-focused environments that exceed client expectations.
Details
Description
When Austereo wanted to create a vibrant and innovative office space to reflect their company culture, they enlisted Marshall Kusinski Design Consultants to come up with an impressive interior design concept.
The design needed to accommodate radio stations 92.9 and 94.5 in the one building, accessible via a shared reception on the ground floor.
The operations room, or master control room, was required to be located on the ground floor, servicing the studios and staff of each station. It was important that the staff areas relate to the relevant studios whilst referencing the audience with views to the street, or a window to the world. Visual and spatial connectivity was the essential virtue of the brief for this dynamic working environment.
With most of the working environment and technical considerations resolved over the ground and second floors, the common use facilities such as the boardroom, staff hub and outdoor entertainment area could be situated above on the third floor. This would encourage energy to be drawn upwards through the core of the building.
The building has been specifically designed to suit the needs of the sole tenant, Austereo. High ceilings were dictated by the requirements of the studios and a centralised staircase with glazed balustrades adds to this sense of volume.
Approximately 90 staff occupy the open plan radial workstations which form an organic footprint to promote exchanges of ideas. Only two offices occupy an area outside of this open plan arrangement, but in remaining true to the transparency and energy of the organization, glazed partitions permit visual access.
Developer Mark Hector from the Qube Property group worked closely with Austereo General Manger Linda Wayman to create a building which meets the company's current and future needs. The floor plan incorporates mobile and flexible meeting spaces in addition to various quiet contemplation areas on each floor. The meeting room tables are easily re-configured for collaborative projects or brainstorming sessions and there is opportunity to add more staff without compromising the qualities of the open plan office. Whilst the solution is one of integrity and therefore based in timeless design, there are elements of playfulness such as the use of bold furniture pieces and vibrant upholstery colours.
The exciting result is synonymous with the enthusiastic team leading the project as it provided Marshall Kusinski with a less than conservative brief. "It was a unique opportunity to let creativity win out", comments Kathy Kusinski. "This is not always the case in corporate office design."
Location