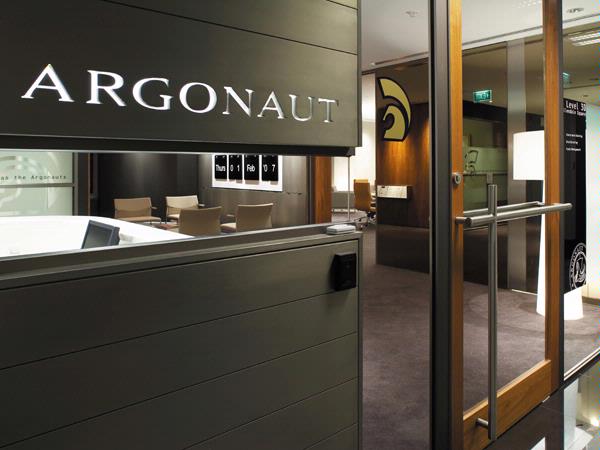 When designing a modern and elegant interior,Anitma Design Groupkeeps attention to detail at forefront of mind for ultimate results.
Details
Description
The new premises of boutique investment banking organisation Argonaut were to reflect the company's innovative services and appeal to the young team of staff through a 'timeless' and elegant public area and bright, energetic environment.
A combination of shared and individual workspaces, meeting and breakout areas/rooms and staff café formed the request list. The new fitout was to encourage a sociable community environment, while maintaining privacy when required.
The design needed to provide the best of both worlds – the proximity for staff to work effectively together and privacy for individual tasks.
Creative team, Anita Moullin and Paul Lim of Anitma Design Group, felt Argonaut's emphasis on commitment to staff had a significant influence on the overall design. As financial service providers, Argonaut's work would benefit from being explained in a visual format, to enhance the company's products and beliefs.
The contrast between dark and light, serious and quirky elements within the design successfully express the balance between innovation and professionalism.
Open-ended spaces throughout the main workstation area create a range of distinct contained entities while promoting contact and engagement with staff at all levels.
The reception area is the focal point for a series of subtle references to 'finance', which determined the use of materials throughout the entire fit out.
The Italian date system in the reception area reinforces Argonaut's strong emphasis on making each client feel 'part of the company'.
The casual use of light, fresh patterned workstation screens and furniture finishes are used subtly in individual workareas and more obviously in interactive zones, to create a suitable work environment. This contrasts with the dramatic tone of the reception, which provides a strong opening statement.
Entry areas are controlled by the use of dark walls and directional lighting revealing details such as timber panelling, bronzed mirrors, contemporary text and over-sized Italian traditional date system.
Location