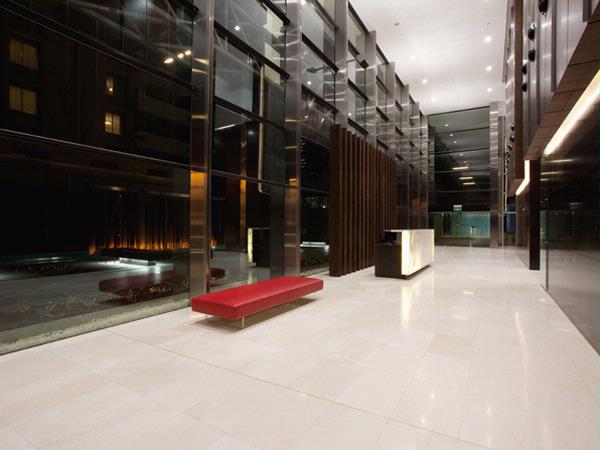 Design excellence and client service are the cornerstones of The Buchan Group.
Details
Description
The Alluvion building was conceived and designed to satisfy market demand for a major new workplace in the heart of the west end, and is essential to the revitalisation of this significant CBD site.
The vision was for a mid-rise office tower of landmark status, comprising 22 levels and featuring elevated office floors that enjoy panoramic views of the Swan River and Kings Park.
Access to the site and the positioning of the main entry lobby at the St Georges Terrace level was critical to the success of the project.
Landscaped public plaza areas located on the northern side of the office podium incorporate ponds and a water feature, public art, and seating set in a mixture of hard and soft landscaping.
Beyond the 10m-high lobby space to the east lies a more intimately scaled lobby lounge, break out and cafe area, which opens its wide frontage to a timber-decked external seating area adjoined by an infinity-edge pond.
Sustainability initiatives and features were a priority in the design of the building, which achieved a Four Star Green Star office V2 design rating, and targeting a 4.5 Star NABERS Energy rating.
A number of features went in to achieve these ratings, including the daylight harvesting lighting system to office floor spaces, and first class tenant bicycle storage and change facilities that provide options for reducing reliance on private vehicle transport. In addition, all composite wood products were manufactured from low-emission formaldehyde materials.
Low water consumption fixtures were put in to place, along with a dedicated storage area for the collection and recycling of office consumables.
The perception amongst the property marketplace is that Alluvion is a high-quality design, high-calibre building. This perception is driven by the design integrity and quality of finishes and material selections.
Related
Medical Corporation & Vietnam Industrial Project
Location