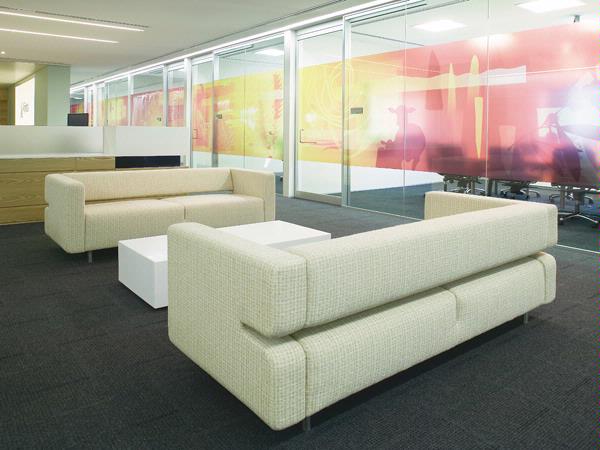 HBO+EMTB is one of Asia Pacific's leading multi-disciplinary design practices. Offering expertise in architecture, interior design, workplace strategy, urban design, landscape architecture and heritage, HBO+EMTB provides a service that accounts for a facility's full lifecycle. Today, the company conducts business from offices in 10 countries, with HBO+EMTB representing more than a century of design excellence.
Details
Description
When Alinta decided to embark on a corporate fitout to reflect its dynamic yet professional public image, it enlisted HBO+EMTB to head the design project.
Alinta's accommodation criteria included a fit out that promoted equality, interactivity, productivity and transparency. Relocation from previous premises, which included a high quantity of staff occupying offices, allowed the company to instigate a 100 percent open plan environment that represented a cultural revolution.
HBO+EMTB's response to this brief is in line with contemporary design practice, creating a completely open plan environment (without individual offices) with all staff placed at workstations. HBO+EMTB ensured all workstations were purposely designed with low height screens and were located away from the perimeter glazing walls. This allows all staff to benefit from maximum external views and daylight penetration, while creating equality in status delineating ownership of the prime window spaces.
The shared support facilities, including a quiet room, meeting room, project room, breakout, improved IT/audiovisual rooms and large compactus/storage facilities are placed against the core perimeter on the western side of the floor plate. This has fostered collaboration by allowing staff to be planned into a front and central open plan area in one team structure.
The end result is a new contemporary head office for Alinta with a creative, transparent working environment. A sense of community is created, and interactivity and productivity is encouraged, through a complete open plan environment.
Alinta's head office is dynamic with an easy elegance that exudes professionalism and progressiveness.
This corporate fit out offers finishes of a neutral palette, overlaid with colour interruption. Each floor has been themed with graphic displays, carefully controlled through a marketing and branding strategy with extensive staff buy-in. Colour and graphic elements have been included as way-finding through the floor plates, which are designed in typical street layout with neighbouring community areas for meeting, quiet and collaborative zones.
Related
Location