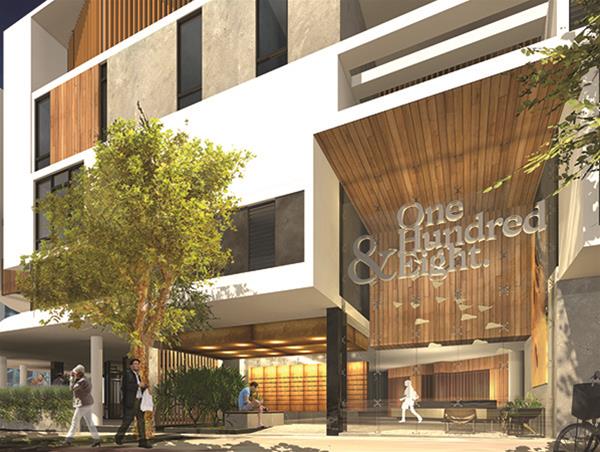 This mixed-use proposal for 108 Stirling Street seeks to provide an elegant and urbane addition to a rapidly changing inner-city precinct.
Details
Institutional Designs:Mixed-Use,Office,Residential,Retail
Description
Just a short stroll from Perth's inner city shopping and dining precinct sits the site for McDonald Jones Architects' recent project, 108 Stirling Street.
At pedestrian level, the proposal seeks active street frontages with a corner bar and alfresco terrace addressing Aberdeen and Stirling streets, along with commercial tenancies and residential lobbies.
As the podium rises, a series of wide frontage apartments and two-storey town homes provides surveillance and activity, as well as sleeving the upper levels of parking. The built form of the podium utilises a contrast of colours, solid/void elements, integrated landscaping and warm natural materials to allow a level of tactility for pedestrians.
Above the podium is a leisure deck, which provides a variety of spatial experiences, and opportunities for residents to relax, recreate and dwell. These spaces vary from intimate quiet areas to larger gathering spaces, and transition between inside and out. The amenities at this level include a residents' library, secret gardens, sauna, gym, private dining, external kitchens, pool, permaculture garden, bocce court, sundeck and the provision for mature trees.
The design of the tower footprint has sought to create opportunities for each apartment to be a corner apartment maximising access to light and views. The frontage provided to each of the apartments far exceeds typical apartments, and the boundary setbacks anticipate future development and ensure resident amenity.
The primary axis of the tower is aligned towards true north, and the geometry consists of two sweeping curves expanding to east and west and terminating to a bird's mouth at north and south. This geometry provides the tower strong verticality, slenderness and a sculptural form, which changes in appearance depending on vantage point and time of day.
PROJECT PROFILE
108 Stirling Street
ARCHITECT | McDonald Jones Architects
DEVELOPER | Stirling Capital
BRIEF | To create a 'pencil' tower which rises from a heavily landscaped leisure deck over a five-storey podium building providing appropriate urban integration.
LOCATION | 108 Stirling Street, Perth
Related
Royal Freshwater Bay Yacht Club Extensions
Location