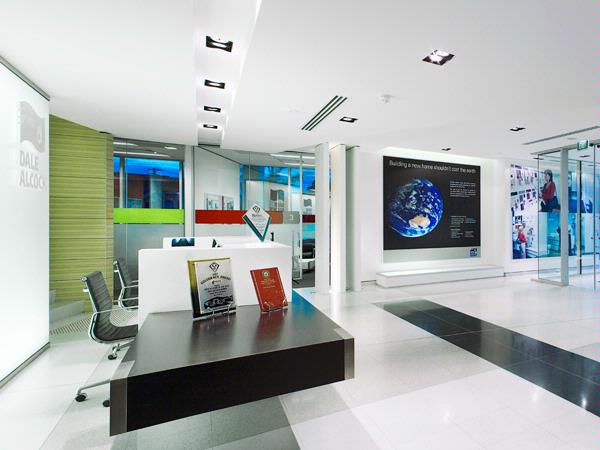 PACT is the commercial building division of Australia's largest residential building group, ABN (Alcock Brown-Neaves) Group.
Details
Institutional Designs:Residential
Landscape Designs:Residential
Description
Environmentally friendly, aesthetically pleasing and serviceable, Dale Alcock's new head offices tick all of the boxes.
Dale Alcock required a one-stop shop that encompassed both the offices of Dale Alcock Homes and Dale Alcock Home Improvements, complete with state-of-the-art selection area, staff gymnasium and cafe.
Designed by Meyer Shircore and Associates in conjunction with Marshall Kusinski Design Consultants for the internal fitout design area and Bruce Arnold for the Client Selection Areas, PACT created a contemporary building that was functional for bothDale Alcock employees and their customers.
The project commenced with the demolition of the existing warehouse and structures, which was followed by the construction of the base building, office and showroom fit out. Working on an open plan layout, they employed heavy use of segmented curtain wall glazing, a way in which privacy for the work environment can be achieved without compromising the light, airy spaces accomplished in an open plan design.
Employing extensive use of energy efficient design, PACT included insulation, floor, wall and ceiling finishes to reduce the building's energy consumption. Water saving devices were also put in place to promote a green working environment.
With the project valued at $12.32 million, and a time frame of just 78 weeks, PACT completed construction on time and within budget, objectives which they consider of paramount importance across any job they undertake.
The end result is a high quality building as functional as it is aesthetically appealing, all with sustainable, energy efficient design in mind.
Related
Joseph Banks Secondary College
Edith Cowan University Building 34
Bassendean Shopping Centre
Baldivis Library & Community Centre
Location
Address: 136 Hasler Road,Osborne Park,WA,6017
Phone: (08) 9340 5900
Email: [email protected]