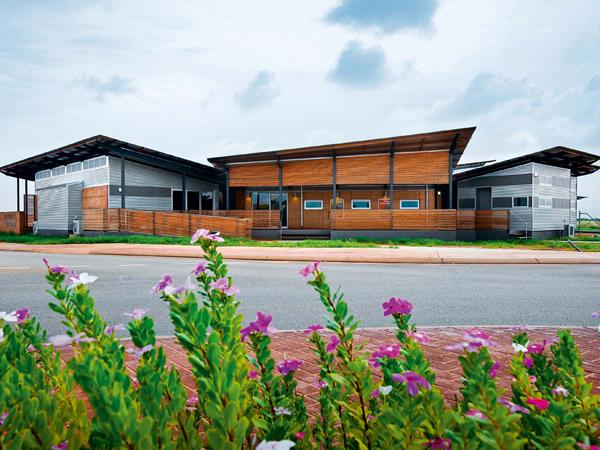 Wangka Maya Pilbara Aboriginal Language Centre
From the Kimberley through to Esperance, Paradigm Architects is committed to producing vibrant and sustainable designs that reflect and nurture WA's diverse environment.
Details
Description
Located in South Hedland, the Wangka Maya Pilbara Aboriginal Language Centre was designed in close consultation with Wangka Maya to provide functional offices and meeting spaces, incorporating sustainable principles with Indigenous cultural sensitivities.
Designing with a passive thermal design ethos for the tropical region, a pavilion building form was developed which provided a collection of buildings connected by a breezeway.
The design attempts to capture a sense of the Pilbara with materials such as rammed earth walls echoing the rich colour of the earth, and timber batten screens emulating the dappled shade of the indigent plants and trees.
The environmental footprint was kept to a minimum through the use of a Biolytix wastewater treatment system, solar/heat pump water heating and a careful selection of materials including rammed earth and cypress pine shading screens.
The building minimises both water and energy usage through the careful selection of fittings and fixtures, and utilising simple technologies such as motion sensors throughout office areas to assist in the goal of a carbon neutral building.
The centre's Nadine Hicks says the "standout building" ticks all the boxes.
"The building really astonishes people; not only is it beautiful with high quality finishes, the design also encourages people – both Aboriginal and non-Aboriginal – to come together and enjoy cultural activities."
Location
Address: 191 Scarborough Beach Road,Mount Hawthorn,WA,6016
Phone: (08) 9443 1677
Email: [email protected]