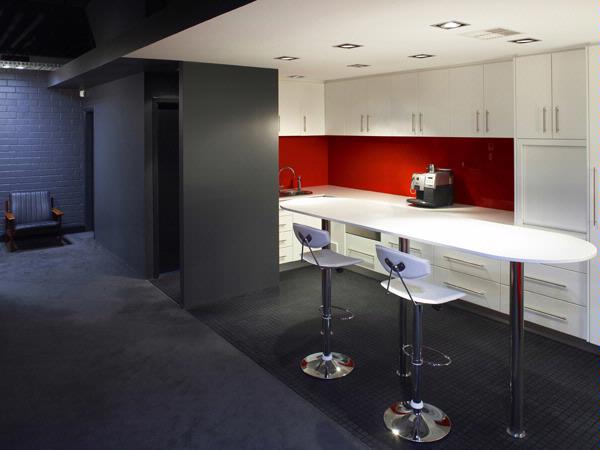 Brooking Design is a multi-disciplined building and interior design practice located in the port city of Fremantle.
Details
Description
This office space had to reflect the brand's youth audience while providing a professional and inspirational workplace for staff.
Brooking Design was required to design an office for Live Clothing that has a direct relationship with the existing retail brand.
It had to be contemporary to reflect Live's youthful target audience, industrial by incorporating raw structural elements and theatrical, in terms of creating a sense of drama with lighting and contrasting colour choices.
Most importantly, it had to create a "wow" factor
to stand out from the crowd.

A sense of drama is immediately evoked through painting the office shell black with a sculptural red spine demanding attention.
This accentuates the central core that dramatically inhabits the space and acts as a fluid partition for the reception, office and
boardroom.
This area is framed by a catwalk-inspired runway, showcasing next season's fashion collection. Skilful space planning also resolved the lack of natural light in the long, thin space.
Technologically based industrial elements form the final interior space, using hard edge materials including mirror, glass and stainless steel.
This office fit-out creates a workplace that has a direct relationship with Live's successful retail outlets whilst also incorporating the strong visual language executed in their marketing strategy.
Location