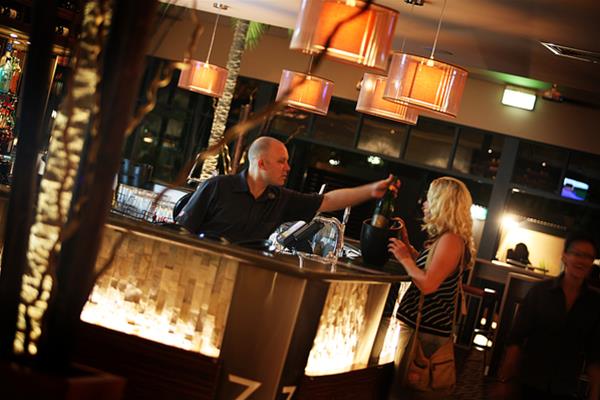 Located along side the award winning 'Beaches of Broome' Resort (also designed by Paul Meschiati and Associates), Zeebar was designed to introduce an up market wine and tapas bar into Broome.
Details
Hospitality Designs:Bars
Institutional Designs:Hospitality
Description
The owners of the adjoining 'Beaches of Broome' Resort wanted to establish a prominent, local bar, and teamed up with the multi award winning 'Zoo Café' owner to create a venue that would stand out from the rest. The services of Paul Meschiati and Associates were engaged to help fulfil this vision.
The challenge was to create a world class establishment, with the focus of being a wine bar rather than a tavern or common bar. Lounge areas were designated and soft furnishing was selected by in house interior designer, Louise Meschiati, with varying materials such as green faux crocodile skin covered lounges, faux emu skin booth seating and varying subtle coloured and patterned ottomans etc. This, with an exclusively designed carpet, aptly named "Zebrano", timber look poly-floor and stone features around the trees, makes for the perfect wine bar atmosphere. Additionally, the bars extensive windows were designed to over look the resort pool, almost making it appear to be one identity. The pool was also used as a water feature and backdrop, viewed from within the bar itself. Such features, amongst others, resulted in an award from the 2008 WA Building Design Awards, for best commercial interior.
Related
Administration Building Upgrade
Location