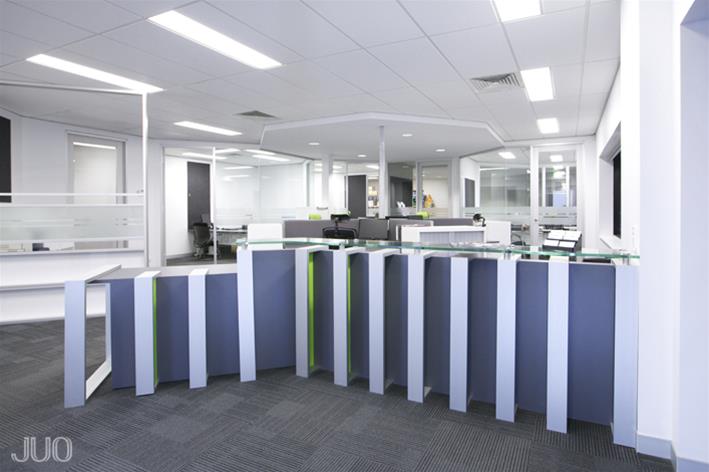 Commercial office fit out
Details
Institutional Designs:Industrial,Office
Description
+ Esther Street, Belmont
+ $500,000
+ 1,500m2
+ 2010-2011
+ Full design service
Comsupply is a company that specialises in the supply of architectural components to the building Industry. It was established on 1986 and has seen significant growth right up to the present day.

In 2009 the adjacent property to the existing Comsupply premises in Belmont went up for sale and provided the opportunity for Comsupply to expand their business further, offering more warehouse storage for a greater range of products and the opportunity to upgrade their office facilities.

The brief was to connect the properties together to enable easy transition for staff, materials and folklifts. A service counter with supervised access to the warehouse as well as easy interaction with the office area where account transaction would be dealt with was quickly recognised as a core function of the business and was the starting point for the design.

Taking an element from the Comsupply branding, the design focuses on a central hexagon for the open plan workstation area that connects and intersects with further hexagons to form the offices, trade counter and customer reception. The hexagon presented the opportunity to showcase the Signature SeriesTM aluminium glazing sections that Comsupply offers. With many intricate mitres and complex junctions, we were able to show what the product is capable off in the hands of a competent tradesman. The hexagon is evident in the dropped plasterboard ceiling above the workstations and trade counter and mimicked on the floor surface using contrasting floor finishes.

To showcase the companies products, we employed an "outside the box" approach using the various aluminium profiles in unconventional applications. For example, the trade counter and reception desk utilised Comsupply's Signature 2000 series to form ribs to support the counter tops, with the negative space between each rib in-filled with MDF and painted two different shades of green - one shade to each side – to tie in with Comsupply's branding. Both the trade counter and reception desk animate each of the spaces they occupy as the perspective, tone and shadows transform in relation to a person's line of sight as they move through the space.
Related
Kingsway Gardens Apartment
Location