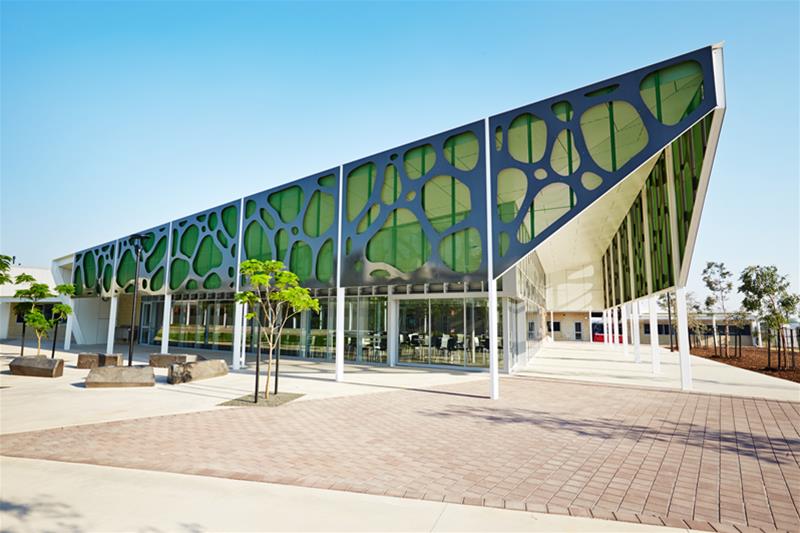 Joseph Banks Secondary College
Joseph Banks Secondary College services Perth's largest northern suburbs growth corridor, particularly Banksia Grove and Wanneroo.
Details
Institutional Designs:Education
Landscape Designs:Education
Description
Stage One of the Joseph Banks Secondary College development commenced in September 2013, with a second stage to follow in 2015-16.
The project saw PACT Construction again partner with T&Z Architects utilizing a tilt-up panel construction method with conventional post and beams.
Materials employed included general blended concrete and extensive special mix (coloured concrete) with honed finish, steel trowel, wood float, broom finish and exposed aggregate finish. Other features comprise face block, honed blocks, some reinforced block work plus Vitrabond coloured and Supawood acoustic panels.??
As the most accomplished education sector builder in WA, PACT was a strong candidate when the Banksia Grove Senior High School project went to tender.??
"Our tender wasn't just competitive, it was also complete," PACT Construction general manager Jason Kunkler said. "We provided the complete solution in regards to the building detail, the program and our project team, supported by our proven ability to deliver a senior high school within a tight program, as we did in Baldivis.??
"The first stage of the Banksia Grove Senior High School program was incredibly tight—just 60 weeks—making it an even quicker yet also a larger build than the school project we completed in Baldivis.??"We met all program timelines by running two project teams in parallel. "This will allow us to accelerate the program by duplicating our on-site supervisory teams, administration and contract and supplier resources to ensure continuity of delivery between the two buildings."??
The building's facilities include a learning community and admin building; performing arts centre; café and library; material technology / IT / food and technology building; health and physical education building; sports oval / football / rugby ground; netball / basketball / tennis courts; cricket pitch and nets plus extensive soft and hard landscaping works.??
In keeping with PACT's commitment to environmentally sustainable building practices, the project intended to meet or exceed the requirements of a four-star Green Star Education version one rating.??"While this is one of the largest projects we have delivered within such a tight building frame, our program acceleration strategies, project management skills and track record ensure we are very confident of delivering on time and above expectation," Mr Kunkler said.
Project Value: $35.2 Million

Related
Edith Cowan University Building 34
Bassendean Shopping Centre
Baldivis Library & Community Centre
Location
Address: Unit 4, 12 Cowcher Place,Belmont,WA,6104
Phone: 08 9340 5900
Email: [email protected]