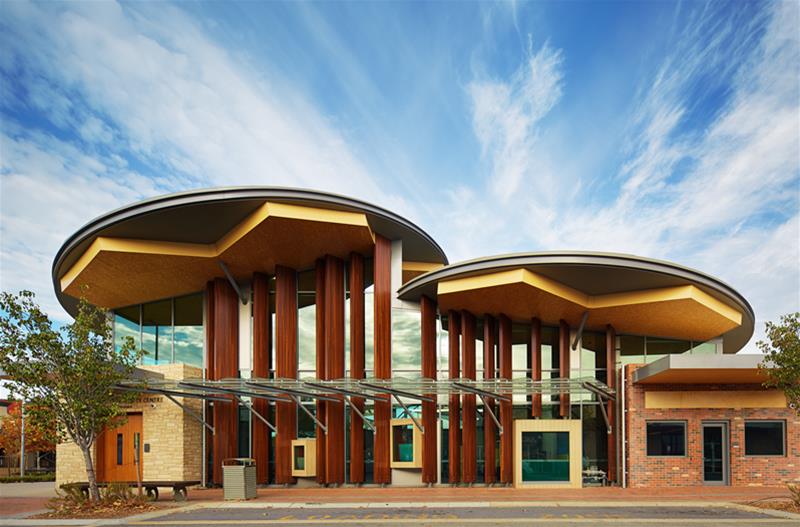 Baldivis Library & Community Centre
Upon successfully constructing the Baldivis Secondary College, the Baldivis Library and Community Centre has again seen PACT Construction make their mark in the region.
Details
Institutional Designs:Child Centres,Civic,Education,Mixed-Use,Office,Research,Urban Design
Landscape Designs:Civic,Education,Mixed-Use,Office,Research,Urban Design
Description
A vital boost to the community, the two-storey Baldivis Library and Community Centre incorporates a contemporary library, e-training areas, meeting rooms, offices and on-ground plaza areas. The clever solar passive design minimises water and energy use.
"The tender process run by the City of Rockingham was very competitive," PACT Construction general manager Jason Kunkler said. "Out of eight other quality builders, we were chosen."
This exciting project has many unique aspects. From the curved roof and intricate façade, hexagonal ceramic tiles to the stone, timber and aluminium composite cladding and rendered brick, there is very little material repetition. Realising the complex facade design required PACT Construction to develop an advanced building methodology to bring all the facets together.
"The delivery of services was also complex. For example, a suspended floor system is hosting reticulated data cabling and also distributing air-conditioned air," Jason Kunkler said.
Its location in a busy public space created further challenges. "The coordination of all material deliveries and contractors were carefully managed," stated Mr Kunkler. "All sub-contractors went through rigorous scrutiny to ensure the greatest quality of work and value for money.
"Importantly, we engaged all contractors in an open conversation as to what was required to procure this project, enabling us to work together to find the optimal delivery approach.
"We have been excited to be involved in such a key community project with the City of Rockingham."
Project Value: $10.7 Million
Construction Time: 63 Weeks
Related
Joseph Banks Secondary College
Edith Cowan University Building 34
Bassendean Shopping Centre
Location
Address: Unit 4, 12 Cowcher Place,Belmont,WA,6104
Phone: 08 9340 5900
Email: [email protected]