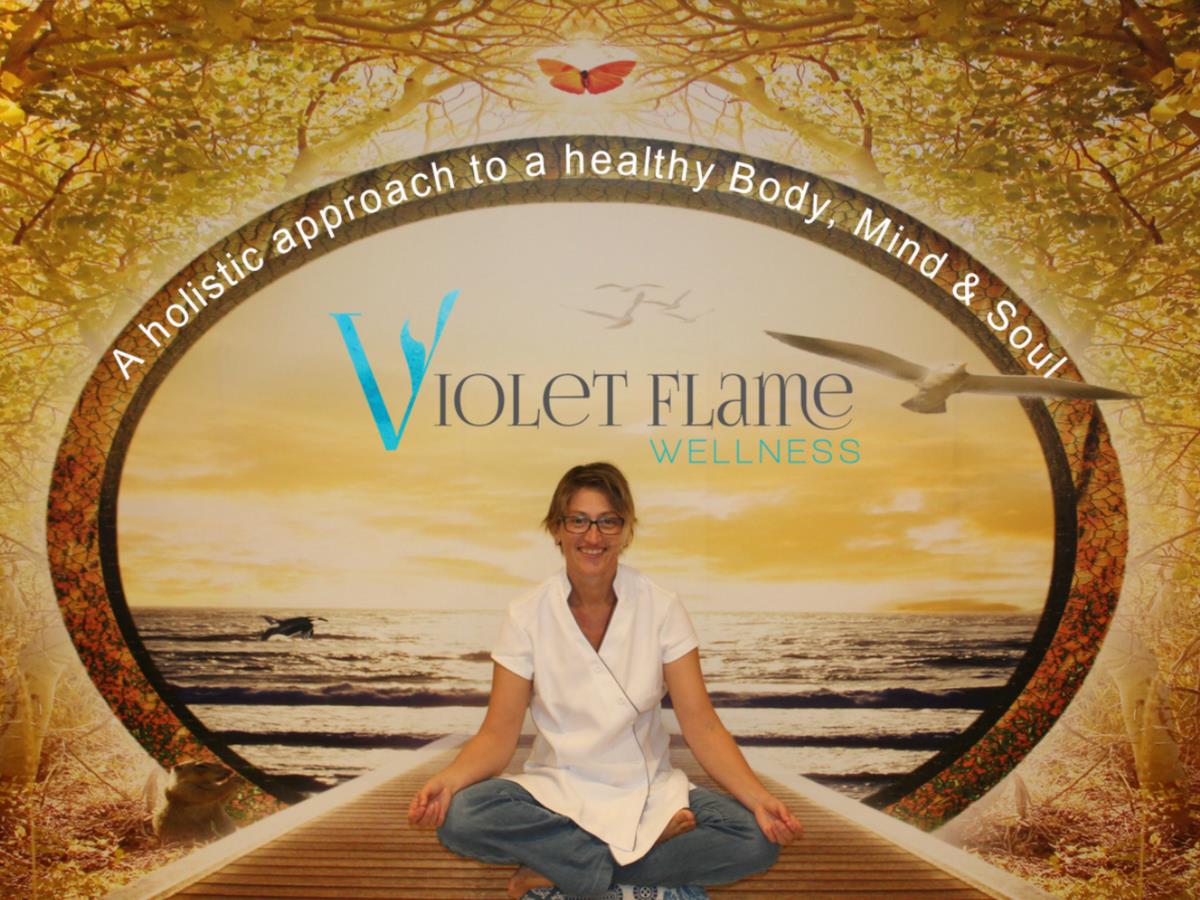 Violet Flame Wellness
Relax & Rejuvenate Body, Mind & Soul. You deserve a break.
Open days/Times:Mon - Sun 9am - 6pm by appointment only
Details
Open Days:Monday,Tuesday,Wednesday,Thursday,Friday,Saturday,Sunday
Description
AromaTouch Technique
What is the AromaTouch Technique?
The doTERRA AromaTouch Technique is a clinical approach to applying essential oils along energy meridians and visceral contact points of the back and feet to help balance sympathetic and parasympathetic nervous systems of the body. Developed by Dr. David Hill, a leading expert in integrative medicine and therapeutic applications of essential oil, the AromaTouch Technique improves well-being by reducing physical and emotional stressors and by supporting healthy autonomic function.
Bowtech – The Original Bowen Technique
What is it and how does it work?
Bowtech, the original Bowen Technique, is a gentle form of body work in which subtle moves performed over the muscles and connective tissue send messages deep into the body, retrieving cellular memory of a preferred, relaxed, balanced way of wellbeing. Results can be remarkable, even from the first session; often only a few sessions are needed to correct the presenting problem.
Energy Healings
What happens during a Healing Session?
Connecting with your energy I will be guided to release all that does not serve you any longer. Any blocks, negativity and stagnant energy will be removed and replaced with channelled healing energy. Your chakras and energy centre will be re-aligned and balanced.
Every Healing session is different and depends fully on your needs, your acceptance of the process and your allowance. I will be guided to channel and release whatever you need. We will be working from the heart to help you to feel calmer, lighter and happier within yourself. .
What am I doing as a DoTERRA Wellness Advocate?
Well I do love Essential Oils and their use in my day to day life.
Essential oils play a big part in my family's daily routine and they have certainly changed our life.
I want to help you getting started with DoTERRA and the use of Essential Oils in your life!
Be it with a wholesale account, using the oils just for yourself and/or family or as a DoTERRA Wellness Advocate that wants to share the passion for these amazing products.
What are the BARS?
The Bars can be the starting point of a great adventure and they can be some-thing you add to your life that will assist you in creating a greater ease with everything.
The Access Bars are 32 bars of energy that run through and around your head that connect to different aspects of your life. We call all of the points you touch when using this modality "The Bars."
The Access Bars are the core of everything in Access Consciousness® because if all you did was have your Bars run, or run a person's Bars, you would eventually become conscious.
Opening Times: Mon - Sun by appointment 9am - 6pm
Location