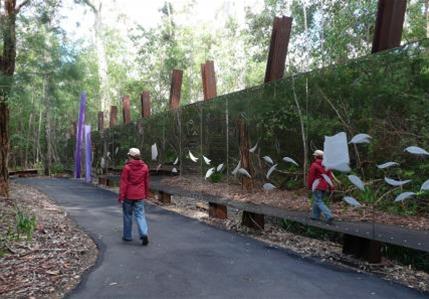 Located in the stunning Walpole Wilderness area, this easy 500 metre stroll takes you through old growth karri forest.
Details
Description
Swarbrick features a selection of art exhibits designed to challenge your perception of wilderness.
The art works range from a sculpture depicting Aboriginal message sticks to a giant suspended ring, the Golden Torus, through which the artist prompts the visitor to explore the interconnectedness of all things.
A short loop walk takes you past the 'Wilderness Wall of Perceptions'. This 39 metre long, stainless steel wall features more than 30 forest related quotes from the past 100 years, with dates of political events relating to forest management and wilderness.
Location
Address: Logging Rd,North Walpole,WA,6398
Phone: (08) 9840 0400
Email: [email protected]