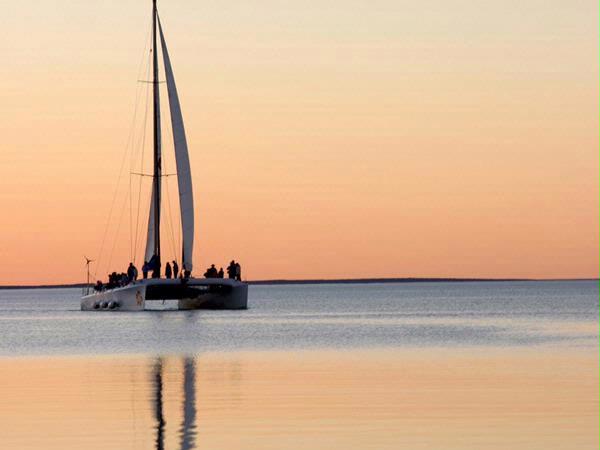 Monkey Mia Wildsights
Monkey Mia's chosen activity specialist: Australia's only Pure Sail Wildlife Cruises, 4WD tours of the François Peron National Park, Beach Astronomy & Beachfront Accommodation.
Course Duration:Various Tours
Tour Price:Various
Type:Tours
Activity:Four Wheel Driving,Star Gazing,Sailing
Details
Description
Monkey Mia Wildsights provides Australia's only Pure Sail Wildlife Cruises aboard Shotover, an awesome 18-metre ocean racing catamaran, offering 4 superb wildlife sailing experiences. All cruises are backed by a $100 no seasickness warranty, for all fare paying passengers and a 'come-again, for free, as often as you like until you have seen the animals to your total satisfaction', animal warranty. At weekends and Tuesday to Friday in the week, Shotover starts the day at 10:00am with the 2.5 hour Wow! Wildlife Experience, followed at 1:00pm with the reputed 3 hour dugong watching cruise, 'Origin of the Mermaid Myth'. The day concludes with the 1.5 hour Monkey Mia Magic Sunset Cruise, sail start times vary to match the sundown. Monday and Fridays Shotover embarks on the all day Day Adventuring for the young at heart, a 6 hour wildlife cruise that at some point during the day will anchor off the shore of the Francois Peron peninsula and guests will be invited to splash ashore on the beach and beachcomb in an area where man has seldom trod.

Monkey Mia Wildsights nature based 4WD tour will take you through the Francois Peron National Park to Cape Peron where Nature's stunning outlooks will take your breath away.

Our Beach Astronomy offers guests the chance to explore our awesome universe on Monkey Mia's beach and will give you an understandable explanation to the basics of space .
All activities and the accommodation is backed by our guarantee to you, 'Love it, or it's free!'. There are no minimum numbers, we'll go even if you are our only guest!
Monkey Mia Wildsights will show you Western Australia's unique attractions in the Shark Bay World Heritage region in a way few others have seen it. You won't be disappointed!
Location
Address: Monkey Mia Jetty,Monkey Mia,WA,6537
Phone: (08) 9948 1481
Email: [email protected]