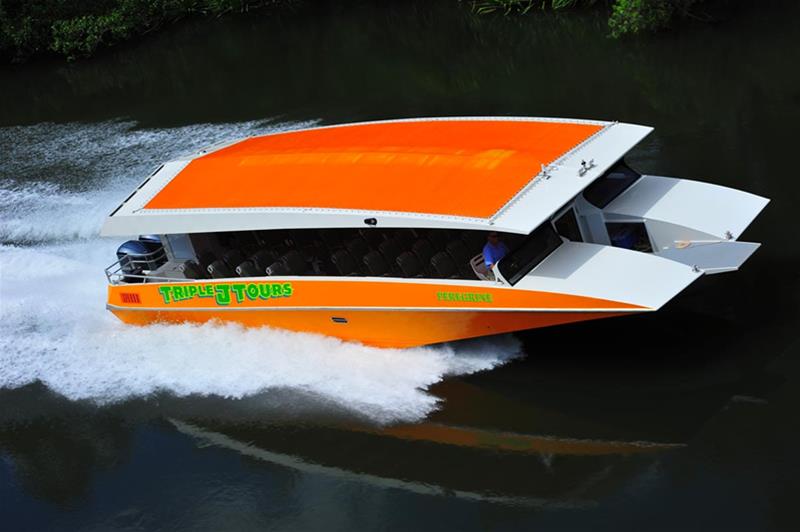 Triple J Tours
Triple J Tours offers one of Australia's longest daily river cruises. An extraordinary 55km (one way) on the section of the Ord River known as Lake Kununurra between the Ord Top Dam and Diversion Dam
Open days/Times:April - October
Tour Price:From $145
Type:Tours
Suited For:Families
Details
Tour Capacity:Full Day
Tour Locations:Ord River between Kununurra and the Ord Top Dam at Lake Argyle.
Type:Tours
Suited For:Families
Description
Triple J Tours have been offering one of the longest daily river cruises in Australia between Kununurra and the Ord Top Dam at Lake Argyle, in the East Kimberley region of Western Australia, since 1988.
This extraordinary cruise covers the wilderness area between Kununurra and the Ord Top Dam, a 55-kilometre expedition along the most beautiful river and gorge country in Australia. Highlighting the development of the ambitious Ord River Irrigation Scheme, the resulting agriculture and the consequent ecosystem that has flourished after the Kununurra Diversion Dam was constructed in 1963, you will be amazed at what its creation has achieved.
Triple J Tours provides one of the most exhilarating and educational tours in WA and their skippers are knowledgeable and friendly.
You will enjoy a range of experiences including wildlife interpretation, photography, bird watching, geology appreciation, cultural interpretation, history and agriculture. Admire spectacular scenery, flora, bird life, crocodiles and flying foxes all from the comfort of one of their vessels aptly named 'Peregrine', 'Harrier' and 'Osprey'. Fully shaded and with toilets on-board, these vessels cruise the river with ease and are ergonomically constructed so as to cause as little damage as possible to the river bank.
Touring options can include a 70km coach transfer through 'Durack country' from Kununurra to Lake Argyle (or vice versa). This includes a visit to the historic Durack Homestead Museum. This magnificent homestead was originally built in 1895 by the Durack family on Argyle Downs Station (now mostly submerged by the lake). During the early 1970's a decision was made to remove the Homestead before Lake Argyle began to fill in order to preserve this magnificent building for all time. The Homestead was dismantled stone by stone with every stone coded in such a way so as to be able to be rebuilt with every stone back in its original position. The homestead now lives on as a museum dedicated to the pioneering spirit of the Durack family.
You may also select an option that includes a home-made buffet lunch or afternoon tea at one of the companies secluded riverside camps on the banks of the river.
Triple J Tours has vessels that can seat between 28 and 50 people. Book now for not only the longest but also one of the best, most informative river cruises in Australia.
Location