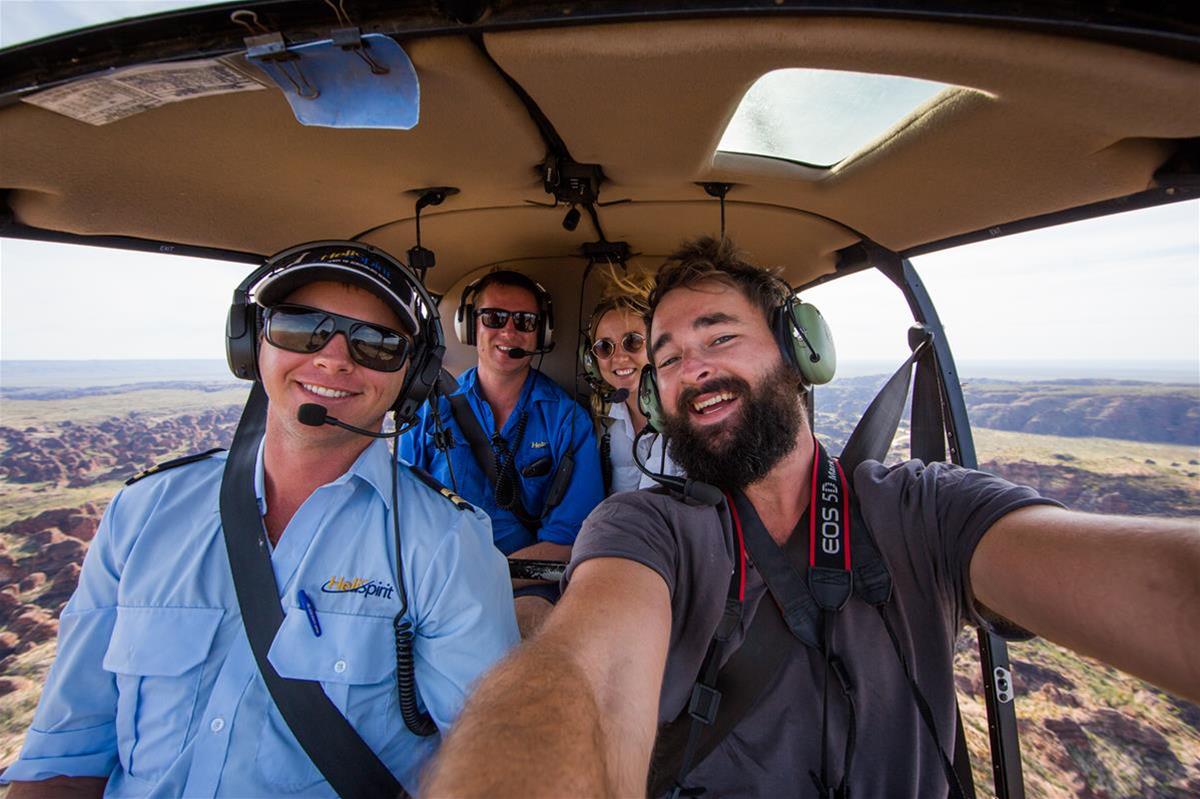 The Ultimate Kimberley Heli Pub Tour
Visit some of the most iconic stations on the Gibb River Road, on a heli pub tour from Kununurra. Home Valley Station | El Questro | Hoochery Rum Distillery
Open days/Times:April - September
Tour Duration:11:00am – 4:45pm
Tour Price:$1295
Type:Charters & Rentals,Tours
Activity:Flying / Scenic Flights,Helicopter Flights,Rivers & Lakes,Distillery,Food & Drink,Whisky
Suited For:Families,Adults (18+),Adults Only,Seniors
Details
Tour Capacity:Minimum of 2
Tour Locations:Departs from Kununurra
Type:Charters & Rentals,Tours
Suited For:Families,Adults (18+),Adults Only,Seniors
Open Days:Monday,Tuesday,Wednesday,Thursday,Friday,Saturday,Sunday,Public Holidays
Description
Introducing... THE ULTIMATE KIMBERLEY HELI PUB TOUR
Visit some of the most iconic stations on the Gibb River Road, on a heli pub tour from Kununurra!
The first stop is
Home Valley Station
's 'Dusty Bar' for a swim in the pool, lunch and a beverage, followed by an incredible flight over the Pentecost Crossing and alongside the breathtaking Cockburn Range.
Next you will land at
El Questro
Station for a snack, drink and some down time at The Swinging Arm Bar.
The final stop for the afternoon is the
Hoochery Distillery
, Western Australia's oldest continuously operating (legal) still. Here you'll enjoy a private tour, rum tasting and snack paddle before returning with a scenic flight over Kununurra as the sun makes its way to the horizon, lighting up the spectacular Ord River.
Tour includes:
- Four spectacular scenic helicopter flights over wild Kimberley landscapes
- Lunch and a drink (beer, wine or soft drink) at Home Valley Station
- A drink (tap beer, wine or soft drink) and a cheese plate to share at El Questro Station
- Private tour of the Hoochery Distillery, rum tasting, snack paddle and 50ml souvenir bottle of rum to take home
- Transfers to and from your Kununurra accommodation
Location