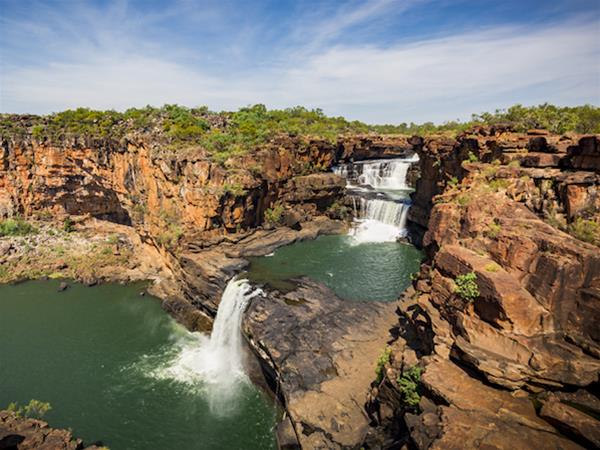 Mitchell Falls Day Tour
Visit the mighty Mitchell Falls. Departing Kununurra, scenic plane flight of the north Kimberley coast, thrilling helicopter flight, hike to the Mitchell Falls... all in a day!
Open days/Times:May - August
Tour Duration:6:00am - 3:00pm
Tour Price:$1495
Type:Tours
Activity:Bush Walking,Flying / Scenic Flights,Helicopter Flights,Rivers & Lakes,Aboriginal Rock Art,Airplane,Lookout
Suited For:Families,Toddlers (0 - 3),Kids (4 - 12),Teens (13 - 17),Adults Only,Seniors,Adults (18+)
Details
Tour Capacity:Minimum of 2
Tour Locations:Departs from Kununurra
Type:Tours
Suited For:Families,Toddlers (0 - 3),Kids (4 - 12),Teens (13 - 17),Adults Only,Seniors,Adults (18+)
Open Days:Thursday,Saturday,Public Holidays
Description
The North Kimberley with its untouched, remote coastline hides its secrets well until you take to the air. This full day plane, hike and helicopter combination tour covers an area the size of central Europe.
Majestic waterfalls, cattle stations, wilderness reserves and incredible coastal views will keep you enthralled all day. View the Ord Irrigation area, Cockburn Range, King George Falls, Berkeley River, Cambridge Gulf, Mitchell Falls and Wyndham mud flats. Land and hike 4.5km to the Mitchell Falls and enjoy two thrilling helicopter flights.
- Departing Kununurra, fly by plane over the Ord River Irrigation Area, Carlton Hill Station, Wyndham and the Cambridge Gulf to the coast.
- View beautifully patterned mud flats near Wyndham at the mouth of the Ord and King Rivers.
- Marvel at the Berkeley River Gorge, King George Falls, and Kalumburu.
- Land at the remote Mitchell Plateau airstrip to transfer to a HeliSpirit helicopter and fly to the start of the walk to the falls.
- Enjoy a guided 4.5 km hike into the Mitchell Falls. (This is a difficult and uneven track with river crossings, which can be slippery. There is an option of taking a helicopter transfer instead of walking).
- Time to explore the falls and swim.
- Picnic lunch is included in a shoulder bag which you carry.
- Fly by helicopter taking off above the falls and flying over them for great photo opportunities. Land at the airstrip to transfer to your plane.
- Return to Kununurra flying over El Questro and the Cockburn Range.
Air-conditioned plane with high wings, large windows and pilot commentary. Complimentary pick ups and drop offs to Kununurra accommodation.
Location
Address: Aviair Pty Ltd, 319 Laine Jones Drive,Kununurra,WA,6743
Phone: (08) 9166 9300
Email: [email protected]