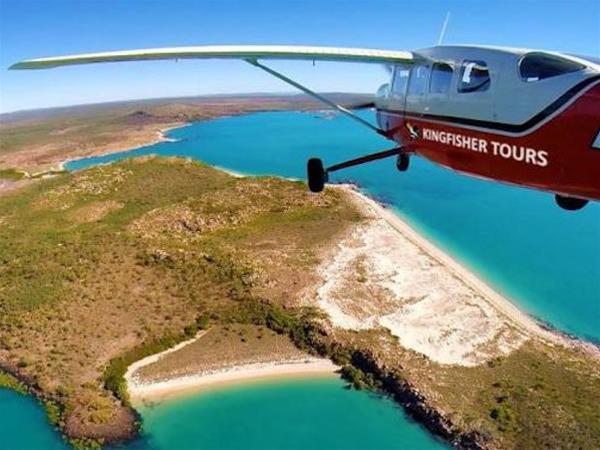 Kingfisher Tours
Join Kingfisher Tours on a journey into the wilderness to discover the heart and soul of the Kimberley.
Open days/Times:6am - 6pm Mon-Sun
Tour Price:From $290
Wheelchair Access:yes
Type:Attractions,Tours
Activity:Fishing,Island,Rivers & Lakes,Food & Drink,Flying / Scenic Flights,Art & Craft,Astronomy,Bird Watching,Bush Walking,Helicopter Flights,Star Gazing,Aboriginal Bushfoods,Aboriginal Music, Art & Dance,Aboriginal Rock Art,Airplane,Cooking,Mining Site,Sailing
Suited For:Families,Toddlers (0 - 3),Kids (4 - 12),Teens (13 - 17),Adults (18+),Wheelchairs,Seniors
Details
Tour Locations:Purnululu National Park, Bungle Bungles, Mitchell Falls , Kununurra
Type:Attractions,Tours
Suited For:Families,Toddlers (0 - 3),Kids (4 - 12),Teens (13 - 17),Adults (18+),Wheelchairs,Seniors
Open Days:Public Holidays,Monday,Tuesday,Wednesday,Thursday,Friday,Saturday,Sunday
Description
Kingfisher operates across iconic Kimberley locations including Kununurra, Purnululu National Park (Bungle Bungle Range), Punamii- Uunpu (Mitchell Falls), and Kalumburu Coast. Kingfisher Tours and staff have a long standing relationship in the Kimberley and provide an insightful and informative perspective on the Kimberley Region.
Aboriginal and local guides run the tours on country, delivering a unique product and sharing the rich history of the region on our small group adventures into the heart and soul of the Kimberley; the stories of the land and the dreamtime are experiences that are not forgotten in this part of the world.
Once we land at our incredible destinations our guests are welcomed to country by their Kingfisher local guide, then head off on the ground tour up the beautiful Mitchell Falls, along the north coast, into the Bungles or the famous Argyle Diamond mine.
Guest accommodation is at our partner APT's pristine wilderness and coastal lodges in the Bungle Bungles or Mitchell Falls. We fly into El Questro, Emma Gorge, Home Valley, Berkeley River Resort, Bullo River Station, Kimberley Coastal Camp and Far Away Bay to pick up and drop off guests for any of our tours and are able to provide overnight packages at these locations.
Kingfisher Tours are very conscious of our pristine wilderness that we live and tour in. Tourism does not have to have a large footprint on the environment and local culture. As such we have introduced several initiatives to minimise the single use plastic in the business and continue to encourage other tour operators to do the same. We also believe tourism is an important industry to generate future employment and pride for local people. We work closely with other businesses to grow and support this ethos.
Kingfisher Tours want to ensure a positive experience for local people, tourism companies, and tourists alike.
Related
Kingfisher Tours Trek Bungles Tours
Kingfisher Tours Mitchell Falls And Kimberley Coast
Home Valley Cattleman's Lunch
Bungle Bungle Scenic + Argyle Diamond Mine + Lake Argyle Cruise Day Tour
Location