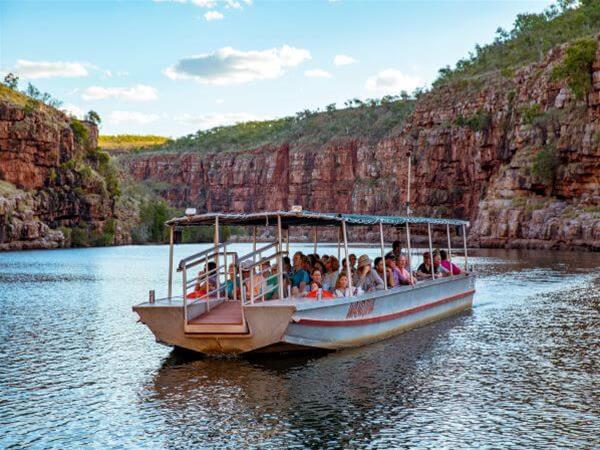 El Questro Wilderness Park - Tours
Let our El Questro Rangers do the thinking, and organising, for you.
Open days/Times:Monday-Sunday
Type:Tours
Activity:Bird Watching,Bush Walking,Driving,Fishing,Flying / Scenic Flights,Four Wheel Driving,Helicopter Flights,Horse Riding,Rivers & Lakes,Lookout
Suited For:Families,Toddlers (0 - 3),Kids (4 - 12),Teens (13 - 17),Adults (18+)
Details
Tour Locations:Chamberlain Gorge,Gorge and Branco's Lookout,Zebedee Springs and Pentecost River
Type:Tours
Suited For:Families,Toddlers (0 - 3),Kids (4 - 12),Teens (13 - 17),Adults (18+)
Open Days:Monday,Tuesday,Wednesday,Thursday,Friday,Saturday,Sunday,Public Holidays
Description
Whether a fishing trip, a horse ride, rugged 4WD driving, guided hike or an intimate cruise down the Chamberlain River everything is taken care of leaving you free to simply sit back and enjoy the adventure.
Chamberlain Gorge Cruise:
Boating along the Chamberlain Gorge is a must do while visiting El Questro.
Explosion Gorge and Branco's Lookout for Sunset:
Hop aboard one of our open safari vehicles and experience El Questro in an afternoon.
Zebedee Springs combined with either Chamberlain Gorge or Explosion Gorge:
A short drive and a wondrous walk through bushland and you arrive at Zebedee Springs set in an oasis of Livistonia palms.
Horse Trekking for all Riders:
The best way to get off the beaten track and experience secluded, otherwise inaccessible, areas is to travel by horseback.
4WD Barramundi Fishing Tours:
Head out on a 4WD fishing adventure with one of our fishing Guides to a secret spot on the Pentecost River.
Bird Watching Tour:
Join an El Questro Ranger on an early morning expedition and see if you can spot a pair of dancing Brolgas, some colourful Rainbow Bee-eaters, the endangered Gouldian Finch or the Sea Eagles feeding their young.
Bush Culture, History and Nature Tour:
Learn from our very own El Questro storytellers about the pioneers and previous residents of the original cattle station.
Sunset Tour:
Tour location varies from day to day. Chasing the best sunset when there are so many lookouts at El Questro can feel like a mammoth task but with this tour you get to experience the "best" of all of them.
Buddy's Point:
This two-hour guided tour begins with a 4WD drive adventure over classic Kimberley landscapes
Location
Address: Gibb River Road, via Great Northern Highway,Kununurra,WA,6743
Phone: 1800 837 168
Email: [email protected]