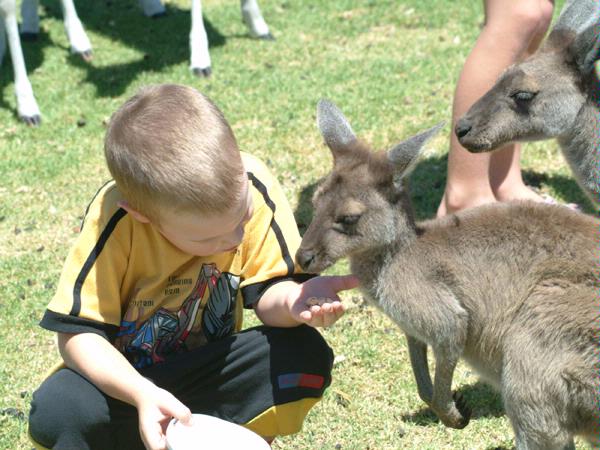 Located 40 min's out of Perth with 15 acres of petting zoo the park offers a range of activities for children and adults to enjoy Australia's incredible range of animals, birds and bushland.
Open days/Times:10am - 5pm Daily
Type:Attractions
Activity:Wildlife Park/Centre
Suited For:Families,Kids (4 - 12)
Details
Type:Attractions
Suited For:Families,Kids (4 - 12)
Open Days:Monday,Tuesday,Wednesday,Thursday,Friday,Saturday,Sunday,Public Holidays
Description
Go behind the scenes and meet all our koalas first hand, find out more about our every increasing ever expanding colony of Koalas. Have a pat , a cuddle and get to hold a koala and take as many photos as you can. As we can only take ten people per day booking are essential.
Cafe
Our Koala Cafe is open every day for teas, coffee and caters for lunches, refreshments and snacks. We also have a gazebo outside with gas barbeques, picnic tables and seating available.
There is no end to dining options available at Marapana Wildlife Park with places for people to picnic and relax amongst the animals and eat in the natural surrounds and bush land that make up the tranquility of Marapana Wildlife Park.
Functions & Tours
Totally Wild Birthday Parties, Why not let us take the stress out of your next Birthday Party and let us give your kids a "Totally Wild" Day out at Marapana.
For Adults: Christmas Party and work functions.
Excursions
Education Pack Information, Outcomes and Activities, Fact Sheets, Worksheets, Q&A Years 1-3 and Q&A Years 4-7 available.
Volunteers
At Marapana our volunteer program is an integral part of the running of the park. With our large range of animals including Australian fauna (koalas, kangaroos, wombats, emus, etc) and exotic fauna (deer, ostrich, alpacas, camels, and plenty of farm animals).
Our volunteers will get to experience a wide variety of daily jobs. Volunteers will generally learn from a few different area such as: Animal diets and feeding, cleaning enclosures, listening and learning from the animal talks our trained staff conduct, maintenance and building of enclosures.
Contact
Call to speak to our friendly staff: (08) 9537 1404
Open 364 days a year, Except for Christmas Day
Location