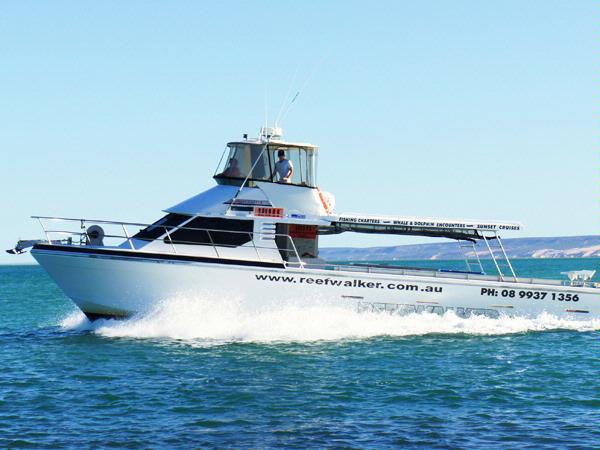 Reefwalker Adventure Tours
REEFWALKER ADVENTURE TOURS offer fishing charters, seasonal whale watching tours, dolphin encounters, seasonal lobster pot pull tours and sunset cruises.
Type:Tours
Activity:Fishing,Whale Watching
Details
Description
Come and meet Rob & Ilse, owner/operators (since 18 years) of REEFWALKER ADVENTURE TOURS and let them take you on an ocean adventure. At Kalbarri it's always a good time to catch a fish, see the dolphins and whales, pull up a lobster pot or just enjoy the sunset in the company of some new friends.
FISHING:
Kalbarri is highly rated as one of Western Australia's premier fishing holiday destinations. Reefwalker Adventure tours fish for quality table fish including red emperor, West Australian dhufish, coral trout, pink snapper, spanish mackerel, yellow fin tuna, sharks and have an unsurpassed reputation in this area.
WHALE WATCHING:
From mid July to mid October come and watch the magnificent display of humpback whales only meters away from our boat. Sightings 100% guaranteed.
COASTAL CLIFF CRUISES AT SUNSET:
A perfect way to start the evening in Kalbarri is to take a sunset cruise along the coastal cliffs and gorges. Witness the cliffs turning the color of flames while the sun dips into the ocean. SALUTING THE DAY'S END IN STYLE IS CERTAINLY A "MUST DO" WHILST VISITING KALBARRI!
DOLPHIN ENCOUNTER:
Share in the wonder and excitement of meeting dolphins in the wild. Our friendly 'locals' are waiting to greet you all year round. As they swim alongside the boat, they roll and turn to peer up at the passengers and if they are in a playful mood they might surprise us with some amazing acrobatics.
LOBSTER POT PULL:
The "Rock Lobster Experience" is a seasonal tour from November to June. We pull several pots and it is always a gamble how many lobsters there will be or what else might have found its way into the lobster pot...octopus...shark...crabs...who knows?... and if you're lucky you might have lobster for tea!
Location