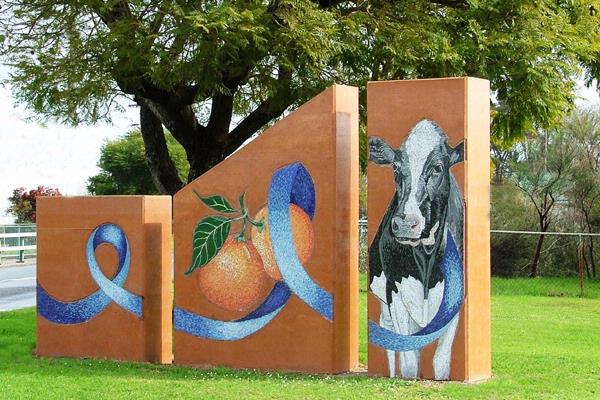 Mosaics & Murals of the Harvey Shire
Mosaics and Murals of Harvey WA are a much sort out attraction in the south west. You will find these unique mosaics at the entrances to Harvey, Binningup, Clifton Park, Cookernup, Myalup & Yarloop.
Open days/Times:Open 7 Days
Activity:Statue
Suited For:Families,Seniors,Wheelchairs
Details
Suited For:Families,Seniors,Wheelchairs
Open Days:Monday,Tuesday,Wednesday,Thursday,Friday,Saturday,Sunday,Public Holidays
Description
MOSAICS: The Harvey Region has a unique collection of 10 large mosaics designed and made by a local artist Anthea Ward. You will find a trail of these large mosaics at the entrances to Harvey, Binningup and Myalup.Other mosaics can be seen at the Harvey Visitor Centre, Australind Shopping Centre and Australind Recreation Centre.

MURALS: The main street of Harvey features 5 wall murals depicting the Harvey District lifestyle. The first panel depicts Harvey's early settlement and timber industry featuring the cedar colours of greens, browns and yellows. The second focuses on the dairy and beef industries, the third features Harvey's citrus, water, irrigation, horticultural and viticulture industry. The fourth features History of the different roles horses played, and the final one is Digging of the Harvey Diversion by Hand, Irrigation System. Each panel is 6m long and 2m high and painted in acrylic with some mosaic sections. While you are in the main shopping area, there is a seat not far from the murals which has also been painted by Anthea.
Location