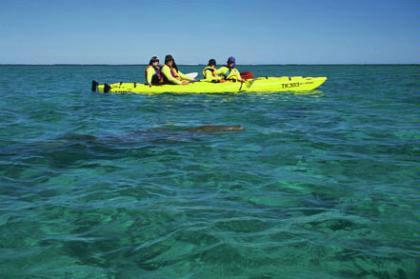 Capricorn Seakayaking
Join us for a sea kayak eco adventure tour of Penguin and Seal Islands, near Perth, Western Australia.
Tour Duration:3 - 6 Hours
Tour Price:From $162
Type:Tours
Activity:Kayak/Canoe/Raft
Suited For:Families
Details
Tour Locations:Penguin Island and Seal Island
Type:Tours
Suited For:Families
Description
Capricorn Seakayaking has over 18 years of experience in small group adventure tours, and our kayak tours are aimed at including those of differing ages and abilities. We pride ourselves on customer service, sound environmental practices, and our passionate, qualified guides, who are there to ensure that your experience is unforgettable.
Choose from one of our Penguin and Seal Island sea kayak eco adventure tours below for your chance to explore more of Western Australia's unique marine life. Get up close and personal with nature, all just a short drive from Perth.
PENGUIN & SEAL ISLAND WILDLIFE ADVENTURE - 6 Hour
Spend a fun-filled day exploring Penguin and Seal Islands by sea kayak. Get up close and personal with Australian sea lions, cruise past rookeries of pelicans, get to know the little penguins on Penguin Island. Tours are led by a qualified instructor who will also give you insights into the amazing natural and human history of the area. It's a fun filled day suitable for beginners to advanced.
PADDLE TO PENGUIN - 3 Hour
Join us on our Penguin Island tour by sea kayak. Paddle to Penguin Island with your guide, where you will enjoy a morning tea in the shaded picnic area, and take a guided walk around the island, enjoying sweeping views and Pelican rookeries. Get to know the little penguins at the Discovery Centre, before we paddle our kayaks back to the mainland. Available 10am to 1pm.
Location