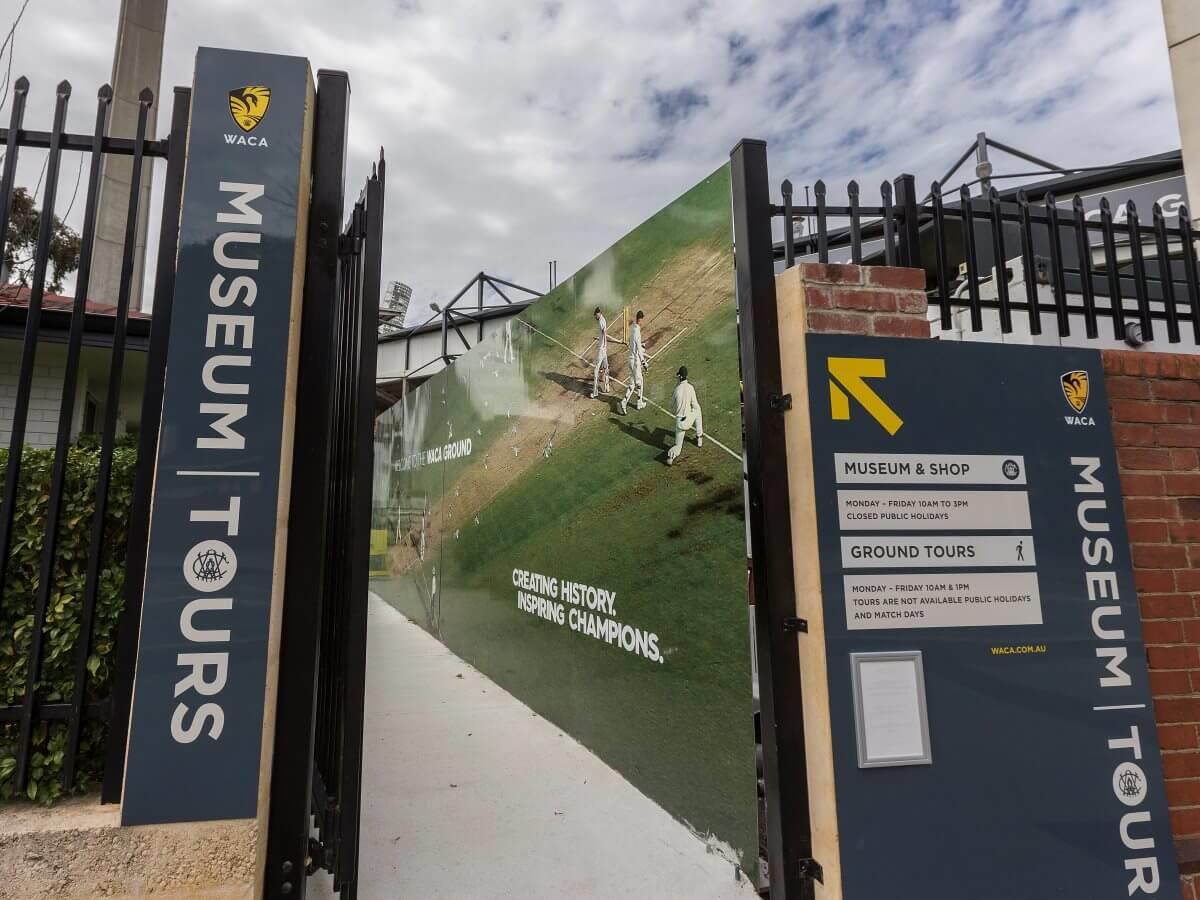 WACA Ground Tours & Museum
Visitors who would like to see the famous WACA Ground are invited to join our guided tours
Open days/Times:Mon - Fri 10am & 1pm
Tour Price:$5 - $45 pp
Type:Tours
Details
Tour Locations:WACA Ground
Type:Tours
Open Days:Monday,Tuesday,Wednesday,Thursday,Friday
Description
Ground Tours
Tours of the iconic WACA Ground run twice daily at 10am and 1pm Monday to Friday, starting from the WACA Museum.
Entry to the Museum is via the gate near the WACA sign on the corner of Nelson Crescent and Hale Street.
Adults: $20
Concessions: $15
Children (aged 5 to 15 years): $5
Family: $45
WACA Members: Free (current Membership Card required)
WACA Member guests and Members of other cricket associations: $10 (current Membership Card required)
Tours are not run on weekends, match days or public holidays.
Museum
The WACA Museum is open from Monday to Friday between 10am and 3pm and entry is by donation. The Museum is located on Hale Street, near the corner of Nelson Crescent in East Perth.
The Museum is closed on weekends and public holidays.
The WACA Museum is one of many small museums located in Perth's east end - the Historic Heart of Perth. Take time to walk the Historic Heart and explore the history of our city within these intriguing spaces. For further information on other small museums visit: https://historicheart.com/museums-1/
Group bookings
For groups (10+) looking to take part in a WACA Ground tour, please contact the Museum on (08) 9265 7318 or email [email protected]
Getting there
The free Red route number two or Yellow route number three CAT buses will take you from Perth to the WACA Ground. A City of Perth car park is also located on Nelson Crescent. Fees apply.
Events
The Men's Ashes 2022 - Australia v England
One Day International 2022 - Australia v New Zealand
Related
Location
Address: WACA Ground, Nelson Cres,Perth,WA,6004
Phone: (08) 9265 7318
Email: [email protected]