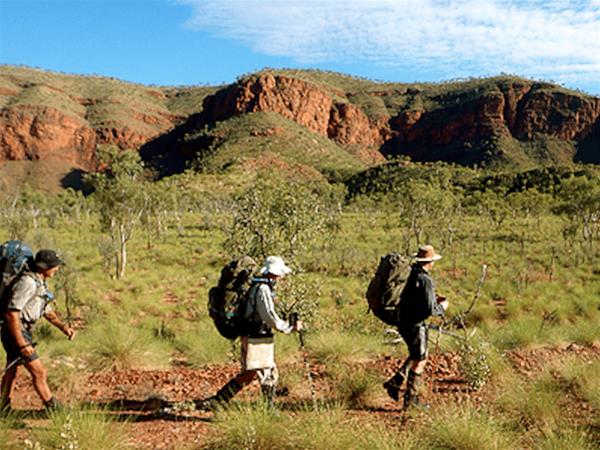 An adventure with Black Tracks will leave you feeling invigorated and recharged with the energy of this ancient land.
Open days/Times:May - September
Tour Duration:3 - 8 days
Type:Tours
Activity:Aboriginal Bushfoods,Aboriginal Owned & Operated,Aboriginal Rock Art
Suited For:Adults (18+)
Details
Tour Capacity:Minimum of 8
Type:Tours
Suited For:Adults (18+)
Description
Developing an interdependent relationship between Kimberley Aboriginal culture and adventure, Black Tracks is blazing a trail, which is seldom achieved on this scale anywhere else on the continent.
BLACK TRACKS specialises in exclusive, small group Bush Treks that immerse the traveller in Australia's extraordinary Kimberley wilderness. Trekking rugged countryside, filled with a unique diversity of flora, fauna and wild river systems, these treks provide access to traditional Aboriginal land and allow glimpses into traditional life, alongside the history of the pastoral industry pioneers.

Black Tracks also offers exclusive, small group Art Treks deep in the West Kimberley. These Treks involve the discovery of ancient rock art galleries featuring 20,000 year old Aboriginal art including, the Bradshaws and the Wandjinas.
Endurance Walks
The Remote Wilderness Treks come with varying physical demands. The four walks - The Durack, Carr Boyd, Speewah and Purnululu involve carrying up to 15-20kg packs for 7-8 days over diverse terrain. With the correct preparation and support from our qualified Trek Leaders, anyone with reasonable levels of fitness can enjoy this special experience.Please see our Fitness Prepartion for more information on getting prepared.

Each night will be spent in a different, isolated and stunning location where will set up camp under the breathtaking Kimberley night sky. Where possible, we camp by rivers so we can try our luck with the local barramundi.
Day Pack Walks
We have also designed a special trek for those who would rather spend the day trekking without the heavy weight of a backpack. The Dunham trek involves one or two base camps which the group return to at the end of each day. We use 4WDs and walking to discover art, waterfalls and stunning landscapes still off the beaten track and isolated parts of the East Kimberley.
For more information on what to bring, what is provided and more details about camping, walking, food, etc. Please go to HEAVY PACK TREKS. For more information about the kinds of fitness preparation you can do, please visit Fitness Preparation. For all other questions you may have, please Contact Us.
Location