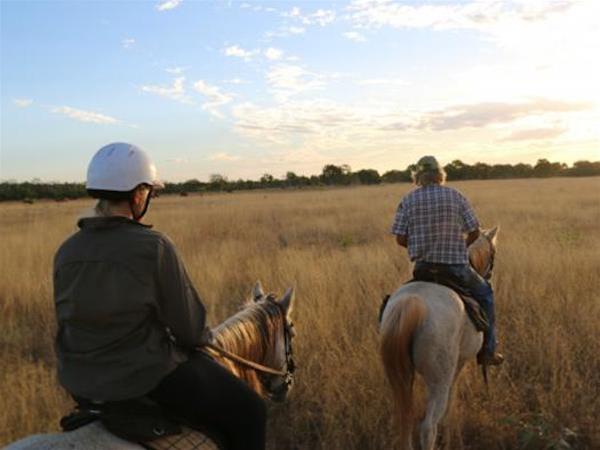 Birdwood Downs Horseriding
A beautiful horseriding experience through the paddocks of Birdwood Downs' pastoral station
Tour Duration:1.5 - 3hrs
Tour Price:From $65 - $110
Type:Tours
Activity:Horse Riding
Suited For:Teens (13 - 17),Adults (18+)
Details
Tour Capacity:2 - 6
Tour Locations:Birdwood Downs
Type:Tours
Suited For:Teens (13 - 17),Adults (18+)
Description
The tour offers a ride through the paddocks of our station, where you can enjoy the beautiful scenery with the characteristic boab trees. Our rides are suitable for all levels of experience, catering for groups of 2 - 6.
The Savannah Trail Ride is a guided one hour ride through our savannah landscape.
The Champagne Sunset Ride is a late afternoon trip to our special Sunset Boab where you can enjoy a glass of bubbly, climb the Boab and enjoy the Kimberley Sunset. The duration is about one and a half hours.
For experienced riders we offer a Marshland Ride where we take you off our property onto the marshes of the King Sound. This ride can be as long as three hours, depending on your experience and endurance.
Location