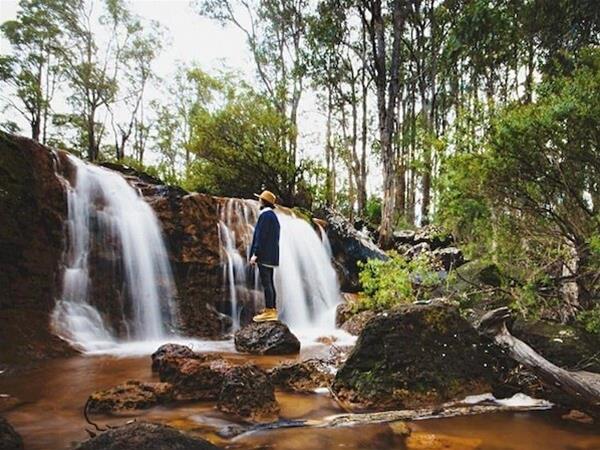 If you are heading southeast from Capel towards Donnybrook along Goodwood Road, it's worth stopping at the picturesque Ironstone Gully Falls picnic area.
Details
Description
In winter the stream, having followed a course through one of the region's many fine jarrah forests, crosses under the road and gently rambles over a series of rapids. The Falls drop over a ledge of nine metres. From August to October, the surrounding countryside abounds with a stunning display of WA wildflowers.
Located 17kms south-east of Capel, this historic picnic area was reserved in 1903 for use as a recreation area for the Capel River settlers. Although not an official trail, the site is famous for the rich red rock over which a small tributary from the Capel River tumbles.
An existing narrow vehicle track winds its way throughout the reserve, providing an ideal ready-made walking and cycling circuit. Bird guides list this site for its potential for sighting raptors, Red-Tailed and Long-Billed Black Cockatoos, and Scarlet Robins.
BBQ and toilet facilities are available at this site. Free camping and pets are allowed.
Location