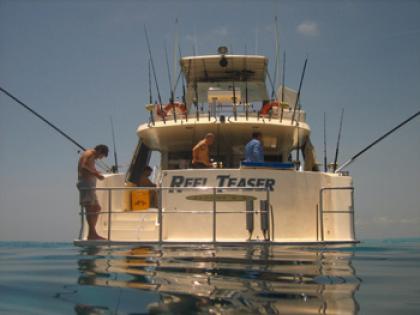 Reel Teaser Charters
Reel Teaser offers exclusive liveaboard charters to destinations such as the Kimberley, Rowley Shoals, Scott Reef & Exmouth
Open days/Times:Check website for charter dates
Tour Duration:7 - 13 Days
Tour Price:From $4,410
Type:Tours,Charters & Rentals
Activity:Bird Watching,Fishing,Sailing
Suited For:Adults (18+)
Details
Tour Locations:North Western Australia
Type:Tours,Charters & Rentals
Suited For:Adults (18+)
Open Days:Monday,Tuesday,Wednesday,Thursday,Friday,Saturday,Sunday
Description
FISHING AT THE ROWLEY SHOALS
Located on the edge of the Continental Shelf, some 168 nautical miles due west of Broome, the Rowley Shoals are a series of 3 coral atolls that rise from the depths, to form the most perfect shelf atoll in the southern hemisphere – if not the world.
We anchor within the protection of a circular reef, which provides a calm and idyllic base for our fishing and snorkeling activities. Fishing at the Rowley Shoals is excellent. You will have the opportunity to try numerous different styles of fishing including trolling, jigging, lure and popper fishing.
Outside the atoll's we target both heavy & light tackle game fishing for Sailfish, Marlin, Yellowfin Tuna, Dogtooth Tuna, Spanish Mackerel, Wahoo & Trevally. Depending on weather we can also target heavy tackle Broadbill Swordfish at night, and some deep water (200mt) jigging for Goldband Snapper, Ruby Snapper and other deep water species.
Inside the atoll's we target light tackle sports fishing species such as coral trout, long nosed emperors, red bass, trevally's and cod. For all fishing inside the atoll we use barbless hooks and practice catch and release. There are some sensational snorkeling sites at Clerke and Imperiuse Reefs. Huge schools of colourful reef fish are to be seen and big fish too… including Wrasse, Shark and the friendly Giant Potato Cod. The visibility is an amazing 60 – 70 metres.
Due to its locality weather does play an important role in these trips. Trips can be 5 – 7 days. We generally leave Broome in the afternoon, steam out and arrive at the Shoals the following morning. You will then spend 5 – 7 days fishing and snorkelling in and around the atoll's. We then leave in the afternoon and return to Broome the following morning. You are only charged for the number of days spent out at the Shoals, not the travelling to and from. We do recommend that you make your return flights flexible or book them for a few days after the trip is due to finish, just in case we get held up due to bad weather. We can take a maximum of 6 passengers and there is a $100 per person CALM Permit Fee in addition to the charter cost.
Charter Cost for 2007 is $4500* per day. Therefore, a 7 day (8 night) charter for 6 passengers would cost $5350 per person including CALM Fees. A 5 day (6 night) charter for 6 passengers would cost $3850 per person including CALM Fees. Please note we do not put groups together. It is up to you how many people you want in your group, but our maximum is 6.
Location