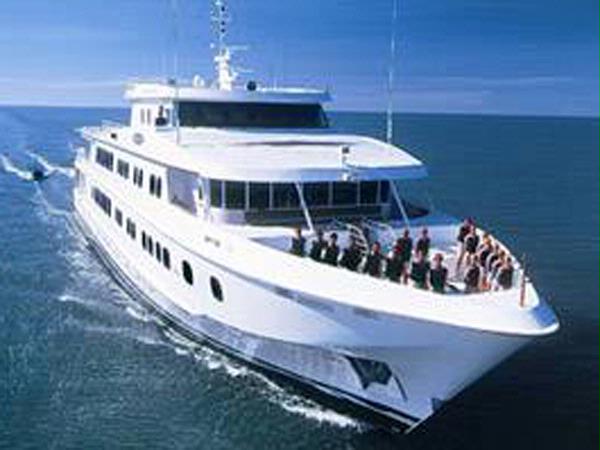 North Star Cruises
North Star Cruises is an undisputed market leader and offers itineraries especially designed for the most discerning adventurer.
Course Duration:Various Tours
Tour Price:Various
Type:Tours
Details
Description
The True North sleeps a maximum of 36 guests and sails with up to 20 crew, providing unrivalled customer service and attention to detail. We are also the only cruise operator who travels with a full-time onboard helicopter! Six full sized expedition vessels allow passengers to experience this vast wilderness in small groups and to do 'what they want, when they want'. With this experience it's no wonder our guests consistently respond with "That's the best holidays I have ever had"!
North Star Cruises Australia is one of the most unique adventure-cruise operators in the world and the winner of numerous awards for excellence. The company offers cruise options all around the Australian coastline and in the stunning waters of Papua New Guinea. All cruises are activity based and specifically designed for the most discerning adventurer.
Our Kimberley Wilderness Cruises is what we're known for! We've been exploring this region for 25 years and are still discovering new sites. This is very much a nature based cruise, where you will rarely encounter other people in this remote region. We have a naturalist onboard who will take you to secret ancient Aboriginal rock art locations that very few have had the privilege to view. This is also the only place in the world you can see the mysterious Bradshaw rock art. (estimated to be at least 17,000 – 30,000 years old) As well as the breathtaking scenery of Mitchell Falls, Montgomery reef, Horizontal Waterfalls & Kings Cascades, you can also take part in numerous daily activities including fishing, swimming (in freshwater – far away from crocodiles!) scenic walks, visits to rock art sites and heli picnics.
Other cruise options include, the "West Coast Explorer" – a voyage of discovery including the Abrolhos Islands and Ningaloo Reef; "Coral Atoll" cruises to the Rowley Shoals – the world's last great underwater wilderness; the "West Papua Discoverer" – an expedition for the true adventurer, unspoiled, unhurried and totally unforgettable; the "Adventures in Paradise" cruise – an opportunity to explore untamed Papua New Guinea in absolute comfort; the "Adventures In Paradise Extended" – experience the rarely visited Louisiade Archipelago; "Sydney Rocks" – discover wilderness on the doorstep of Australia's largest city and, the "Southern Safari" – a safari at sea from Adelaide to Ceduna including famed Kangaroo Island!
All cruises are designed to allow passengers opportunity to 'experience the destination' – daily activities include scenic walks, helicopter flights, fishing, snorkeling, culture, picnics, nature, diving, exploring and much more!
The True North features the ultimate in comfort and style! Legandary Service – 20 crew members and a passenger limit of 36 ensures the unique attention to detail that North Star is famous for. The ship offers several lavish vantage points including a sundeck, an observation lounge and a ship's lounge/bar. Multiple expedition vessels take guests away in small groups to experience wilderness 'up close' and, the luxury of numerous tenders also means that everybody onboard gets to do "what they want, when they want"! And to add yet another dimension to adventure, most cruise options feature an onboard helicopter! Carrying guests in air-conditioned comfort, the helicopter provides unique opportunity to witness grandeur; unique opportunity to fish billabongs that have never been fished; unique opportunity to discover your own wilderness!
Cabins are spacious and feature modern décor, large en-suites, satellite telephones and in-cabin entertainment.
Fine dining is also featured onboard the True North.
Location