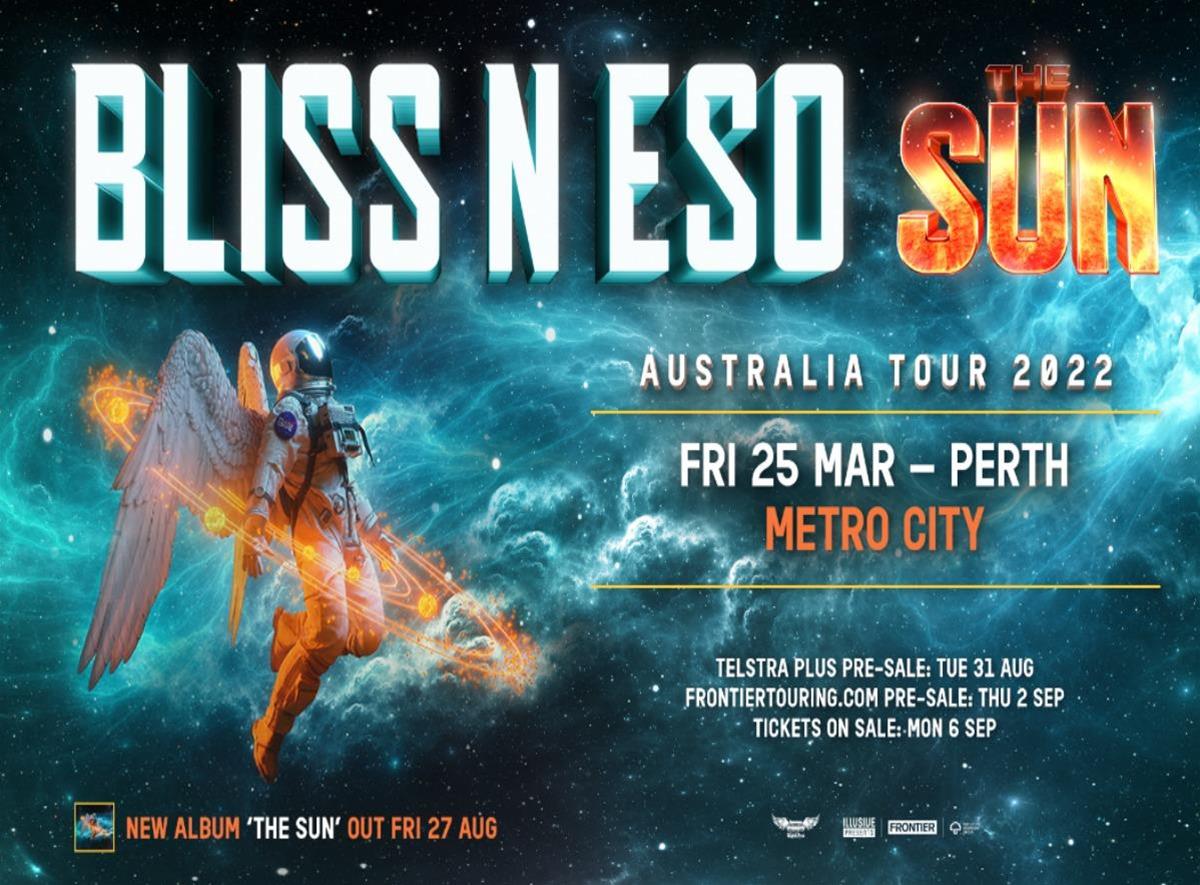 Bliss N Eso | The Sun Tour
Three-time ARIA-award winning group will take their electric energy and unmatchable flow to Metro City in 2022.
Dates:Mar 25
Time(s):8.00pm
Venue:Metro City Concert Club
Details
Hosted By:Frontiertouring
Ticket Price:$79.90
Venue:Metro City Concert Club
Description
The group will be touring in support of their polychromatic seventh studio album The Sun, out now HERE via Flight Deck/Mushroom. Bliss n Eso have long juxtaposed light and dark, blissful and melancholy, and strong and vulnerable. Nonetheless, The Sun finds hope in somber experiences, heightening the album's sense of release. As a group that has grown up through their music over many years, The Sun initiates a new cycle and provides solace in this age of disquiet, thematising contemplation, healing and fortitude. Bliss n Eso today release an extremely limited drop of their hit single OG's (feat. ChillinIt)pressed on 7" red vinyl. Featuring formidable Sydney rapper ChillinIt who's album The Octagon debuted at #2 on the ARIA charts last year, Bliss n Eso's massive single OG's is an anthem for a group who have dominated their field for decades. The combination of the old guard and the new, the mutual respect permeating the lyrical content of this monster track. Bliss n Eso's last 7" vinyl of 'Lighthouse (feat Jake Isaac)' sold out in less than 24 hours, so this limited release is not expected to last long! Our first taste of The Sun has come in the form of singles 'Good People (feat. Kasey Chambers)' which made it's live debut on this year's Music From The Home Front concert, 'Lighthouse (feat. Jake Isaac)', 'So Happy (feat. SonReal)', 'Send It' and more recently 'On One feat. Dizzee Rascal & Kings'. Renowned for their captivating live performances and boisterous energy – don't miss out on tickets to see Australia's finest, Bliss n Eso perform nationally for the first time in over four years, next January - April 2022. Tickets for all shows are on sale now.
Events
Location