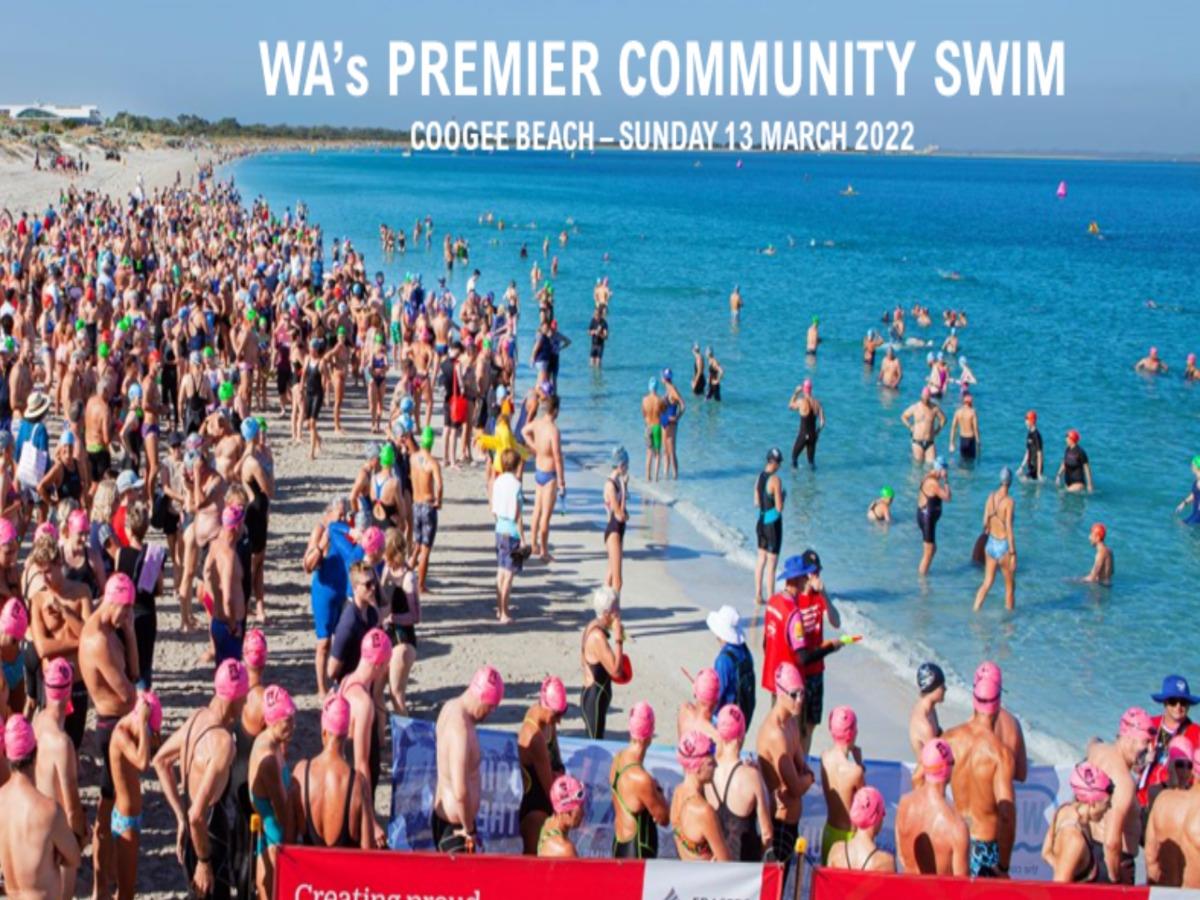 Coogee Jetty To Jetty Swim
Come and spectate or participate in the celebrations and swimming at the 25th Anniversary of the Coogee Jetty to Jetty Swim.
Dates:March 13
Time(s):6.45 am
Venue:Coogee Jetty
Details
Hosted By:Cockburn Masters Swimming Club
Venue:Coogee Jetty
Description
The annual Jetty to Jetty swim is a special community event which participants can enjoy by taking part in this iconic swim, a beautiful walk along Coogee Beach, spectating or simply enjoying each other's company after the swim at the community breakfast on the reserve.

Organised by Cockburn Masters Swimming Club, the key focus of this event is on 'encouraging participation'.

This year's event will include a 250m Community Try It Swim, a 750m Splash and a 1500m Classic Swim, all taking place in clear sheltered waters between Coogee Beach and Woodman Point. Participants begin with a walk along the beach to the starting points then swim back to the Woodman Point Jetty.

In addition to the traditional Jetty to Jetty Swim (1500m Classic) and the half distance 750m Splash, the 250m Community 'Try It' Swim adds to the family focus of this community event and encourages younger children (of 8 years +) and those new to ocean swimming to 'try it'.

For this special 25th event, Daphne is turning silver and our Club is "giving back" to the community which has supported the event its first 25 years in such great numbers by including:

- 250 FREE places in the 250m Community Try-It Swim
- a FREE community breakfast roll for every swimmer taking part
- extra FREE kidzone activities for the whole family to enjoy

There will genuinely be something for everyone so come along and join with us to celebrate this iconic event's 25th birthday.

Entry Limits:
Entries in each of the races are expected to be very popular and places are strictly limited as follows:
- 250m Community Try Swim - 250 swimmers
- 750m Splash - 250 swimmers
- 1500m Classic - 1,000 swimmers

A Priority booking period (1 week only) is available to Cockburn residents for up to 25% of the allocated places in the event from Monday 1st November. All remaining places are available to the General Public from Monday 8th November, beginning with an Early Bird booking period (1 week only).

Location